The Accidental Husband is out Monday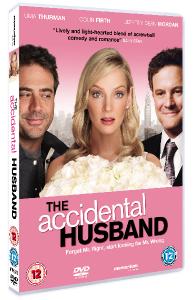 FORGET MR RIGHT, START LOOKING FOR MR WRONG
"Funny and engaging, a truly delightful date movie."
Daily Star
"The engaging screwball comedy is a wonderfully frothy affair."
Sunday Mirror
"Incurable romantics will not feel disappointed."
Daily Express
"Colin Firth is hilarious." Sugar
Are you an incurable romantic who is already planning what to do next Valentine's Day? Would you like a stylish and sexy evening in the company of some of Hollywood's hottest stars? Then
Momentum Pictures
has the perfect answer with the
2 February 2009
DVD release of
The Accidental Husband
.
Starring
Uma Thurman
(
Prime
),
Colin Firth
(
Bridget Jones' Diary
) and
Jeffrey Dean Morgan
(
Grey's Anatomy, PS I Love You
),
The Accidental Husband
poses the dilemma that every nervous bride-to-be would rather not encounter - is Mr Right in fact Mr Wrong? What if Mr Wrong is already Mr Right?
A perfect gift for Valentine's Day, you won't be able to resist the charms of
The Accidental Husband
. So whether you're a
Bridget Jones
type looking for love, already in love or simply an incurable romantic,
The Accidental Husband
is the DVD for you.
Synopsis
Dr Emma Lloyd is a popular New York radio DJ whose sensible, practical advice is listened to and loved by women everywhere. Off-air, her own life is equally successful with wedding plans to dependable fiancé Richard running smoothly, until that is she makes a shocking discovery: she's already married - and to someone else!
With her life turned upside down, Emma frantically sets out to track down the mystery man to annul the marriage. However, as the truth unfolds, she discovers that following her own advice might not be as easy as she thought.
Release information For further information
Release Date: 2 February 2009
Genre: Romantic comedy
Cert: 12 (UK and Eire)
Running Time: 86 mins approx
RRP: £17.99
Retail Cat. Number: MP682D
Retail Barcode: 5060116721737
DVD Extras: Trailer