Maid Marian And Her Merry Men: Series 2 (Two Discs)
Introduction
In the days before he started standing in trenches and talking to weirdy- beardy archaeologists Tony Robinson did a bit of acting and writing. This delightful version of the Robin Hood legend is aimed both at children and at parents who need to ensure their children grow up with the same warped sense of humour as theirs.
To recap: Robin Hood, the erstwhile hero is a wuss named Robin of Kensington(tailor by profession) obsessed with blow-drying his hair and accessorising correctly. His merry men are a bunch of less-than half-wits who only eat thanks to the remarkable determination of the woman known as Maid Marian. She is no shy retiring flower to be relegated to the back-pages of history. In fact she has the only balls in the forest and they are not for playing tennis.
Facing them across the divide of the law itself are the devious but occasionally stupid Sheriff of Nottingham (Robinson himself) and his two incredibly daft henchmen Gary and Graeme. They work for King/prince John who is particularly demanding at meal times.
Cast includes Danny John Jules (Barrington) who went on to play Cat in Red Dwarf. Mike Edmonds(Little Ron) also appeared in The Tenth Kingdom.
Episodes on this series are:
1. The Beast of Bolsover
Approximately 900 years early the Ozzies come to Nottingham and this time they are not after the Ashes. Yes the Beast is a large hairy Australian who wants to be King of the jungle, er, forest. No it`s not Shane Warne.
2. The Worksop Egg Fairy
Marian tries to counter the weird folk tales of the area with science and The Sheriff learns you can`t make a boiled egg supper without breaking eggs (!)
3. Little Brown Noses
When Colin the hen gets kidnapped by the sheriff the Merry Men decide to hold a charitee event to get her back. Meanwhile Guy of Gisbourne is coming -tra la la.
Yes, they really do look like turds...
4. Rabies in Love
Rabies is defeated in an arm wrestling contest by…a woman! Not just any woman; this feisty young thing turns Rabies head so much that little red hearts come out of his nose and a pleasant ditty is heard in the land. Alas, alack the maid is sought as a bride by Guy of Gisbourne, well he`s been promised chocolate spread sandwiches.
How will Rabies get his lady?
5. Rotten Rose Part 1
Maid Marian`s nemesis(everyone needs one of those) arrives and seeks to take power.
6. Rotten Rose Part 2
and again with the nemesis…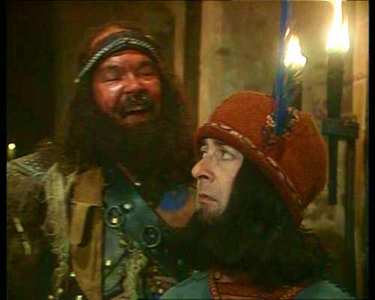 Video
Not Nottingham but Exmoor National Park according to the credits.
A very average picture quality from even such a short time ago.
These are not super pristine but good enough I guess.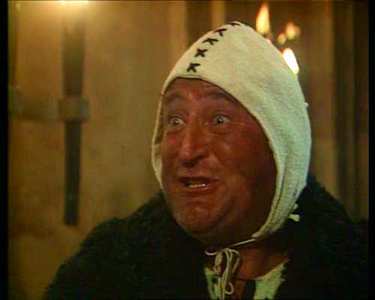 Audio
Not only cracking dialogue but songs worthy of Spitting Image.
Fancy a kid`s programme having such snappy scripts.
BBC you are really spoiling us.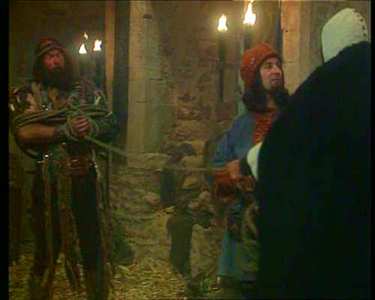 Features
An internal BBC advert is an amusing once only watch.Includes some in-jokes and clips from the show.
2 Audio commentaries
A nice touch acknowledging the real audience these DVDs are for.
Booklet
A little comic is included - illustrated by Paul Cemmick and written by Robinson.
Not strictly an extra but there`s a nice non-cheap animated menu for you to scroll over with music, dialogue, all mod-cons.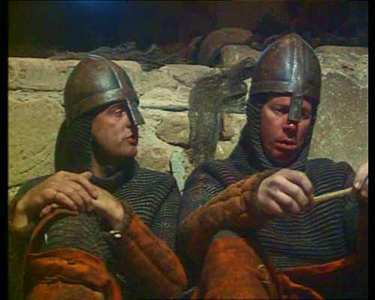 Conclusion
More slapstick than thoughtful this so-called kids` programme is a fine example of the quality drama that pops up on the BBC. It helps when writers are given some freedom and create the sort of anarchic comedy that kids of all ages love. Thank you BBC.
With freely dropped anachronisms this is no history lesson but its great fun away from the classroom for kids and grownups alike. I have no hesitation in recommending some laugh therapy that outsides even Alan Rickman in Prince of Thieves. Notting-HAM it definitely is and the acting is spot on down to the hilariously thick and scummy peasants.
Watch it at once before I set the Sheriff on you.