Hellboy (US)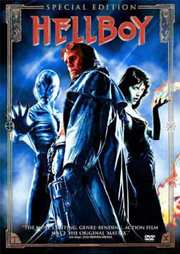 The Right Hand Of Doom
Certificate: PG-13
Running Time: 122 mins
Retail Price: $28.96
Release Date:
Content Type: Movie
Synopsis:
When a Nazi mystical experiment goes awry in 1944, the target of a wizard`s spell, the child of Satan, Hellboy, is wrenched from his home, and adopted by the U.S. agents who intercept his arrival.

Raised as a force of good, Hellboy grows up to be a full-fledged demon in the form of a man, complete with fierce red skin, a tail, a giant stone hand, and two large circles where his horns should be (if they ever grow back, Hellboy is quick to file them down). Now, the adult Hellboy, an investigator of the paranormal, is sent on a mission that brings him back in touch with the evil genius that started it all...

Accompanying him along the way are other agents, including Liz, a pyrokinetic woman Hellboy has feelings for, and Abe Sapien, a mysterious amphibian hominid...
Special Features:
Two Disc Set -
Video Introduction to Movie by director Guillermo del Toro
Audio Commentary with director Guillermo del Toro and Creator Mike Mignola
Cast Audio Commentary with Ron Perlman, Selma Blair, Jeffrey Tambor and Rupert Evans
Branching DVD Comics by Mike Mignola
"Right Hand Of Doom" Set Visits
Storyboards
"From The Den" - Hellboy recommends four Gerald McBoing Boing cartoons
DVD-ROM Extras including printable screenplay

Video Introduction To Extras by Selma Blair
Hellboy: The Seeds Of Creation - 2 1/2 hr documentary on the making of the movie
Deleted Scenes with optional commentary
Character Bios
Motion Board-a-matics
Animatics
Multiangle Storyboard Comparisons
Design Maquette Video Gallery
Marketing Resources

Video Tracks:
Widescreen Anamorphic 1.85:1

Audio Tracks:
Dolby Digital 5.1 English
Dolby Digital 5.1 French

Subtitle Tracks:
French
English
CC: English
CC: French

Directed By:
Guillermo del Toro

Written By:
Guillermo del Toro

Starring:
John Hurt
Selma Blair
Ron Perlman

Soundtrack By:
Marco Beltrami

Editor:
Peter Amundson

Producer:
Lloyd Levin
Mike Richardson
Lawrence Gordon

Distributor:
Columbia Pictures