Lara Croft: Tomb Raider (US)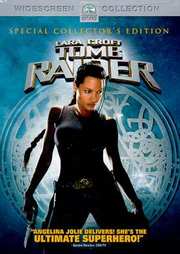 "Angelina Jolie Delivers! She`s The Ultimate Superhero" -Sandie Newton, CBS-TV
Certificate: PG-13
Running Time: 100 mins
Retail Price: $29.99
Release Date:
Content Type: Movie
Synopsis:
Lara Croft, the world`s most famous video-game heroine, burst onto the big screen in "…the most stylish and entertaining action-adventure movie in years!"

Exploring lost empires, finding priceless treasures, punishing villains in mortal combat.. It`s all in a day`s work for adventurer Lara Croft (Angelina Jolie). But a secret from her father`s (Jon Voight) past is about to lead Lara to her greatest challenge: the Triangle Of Light, a legendary artifact with the power to alter space and time. Lara must find the Triangle before it falls into the clutches of the Illuminati, a secret society bent on world domination. To stop the Illuminati, Lara will have to survive a cross-continental chase filled with unimaginable danger. But for the Tomb Raider, danger is the name of the game.
Special Features:
Interactive Menus
Scene Access
Digging into Tomb Raider - In-depth Cast & Crew Interviews, Featuring Angelina Jolie, Jon Voight, Director Simon West and More
Crafting Lara Croft - Angelina Jolie`s Physical Training for the Role
The Stunts of Tomb Raider
Visual Effects of Tomb Raider - 8 Amazing Sequences
Are You Game? - A Look at the Tomb Raider Video Game Phenomenon
Commentary By Director Simon West
4 Deleted Scenes
Alternate Main Title Sequence
U2 Music Video, "Elevation" Tomb Raider Mix

DVD-ROM Features:
Tomb Raider Timeline
Tomb Raider Chronicles Game Demo
Web Site Archive
Access to the Online Experience

Video Tracks:
Widescreen Anamorphic 2.35:1

Audio Tracks:
Dolby Digital 5.1 English
Dolby Digital Surround 2.0 English
Dolby Digital Surround 2.0 French

Subtitle Tracks:
English
CC: English

Directed By:
Simon West

Written By:
John Zinman
Patrick Massett
Simon West
Michael Colleary
Mike Werb
Sara B. Cooper

Starring:
Richard Johnson
Daniel Craig
Noah Taylor
Iain Glen
Jon Voight
Angelina Jolie

Casting By:
Ros Hubbard
John Hubbard
Daniel Hubbard

Soundtrack By:
The Edge
Trent Reznor
Graeme Revell
Nine Inch Nails
Larry Mullen Jr.
Bootsy Collins
Adam Clayton
Bono

Music From:
Johann Sebastian Bach

Director of Photography:
Peter Menzies Jr.

Editor:
Eric Strand
Glen Scantlebury
Dallas Puett
Stuart Baird

Costume Designer:
Lindy Hemming

Production Designer:
Kirk M. Petruccelli

Producer:
Colin Wilson
Jib Polheimus
Michael Levy
Lloyd Levin
Bobby Klein
Chris Kenny
Lawrence Gordon

Executive Producer:
Jeremy H. Smith
Stuart Baird

Distributor:
Paramount Pictures