Terminator 3: Rise Of The Machines (UK)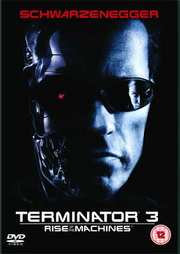 The Machines Will Rise
Certificate: 12
Running Time: 104 mins
Retail Price: £24.99
Release Date:
Content Type: Movie
Synopsis:
A decade has passed since John Connor (Nick Stahl) helped prevent Judgment Day and save mankind from mass destruction. Now 22, Connor lives "off the grid" - no home, no credit cards, no cell phone and no job. No record of his existence. No way he can be traced by Skynet - the highly developed network of machines that once tried to kill him and wage war on humanity. Until out of the shadows of the future steps the T-X (Kristanna Loken), Skynet`s most sophisticated cyborg killing machine yet.

Sent back through time to complete the job left unfinished by her predecessor, the T-1000, this machine is as relentless as her human guise is beautiful. Now Connor`s only hope for survival is the Terminator (Arnold Sschwarzenegger), his mysterious former assassin. Together, they must triumph over the technologically superior T-X and forestall the looming threat of Judgment Day, or face the apocalypse and the fall of civilization as we know it.
Special Features:
Cast and crew commentary from Arnold Schwarzenegger, Jonathan Mostow, Nick Stahl, Kristanna Loken and Claire Danes. Deleted scenes. Outtakes. Introduction by Arnold Schwarzenegger. Documentary. `Dressed To Kill` featurette. Making of the video game featurette. Storyboards. `Toys In Action` featurette. Visual effects featurettes. Photo galleries. Terminator timeline. Weblink - Rom link into web/game demo. T3 video game trailer. Blooper reel. Filmographies. Skynet database. Weapons/actor profiles. 7 Easter eggs.

Video Tracks:
Widescreen Anamorphic 2.40:1

Audio Tracks:
Dolby Digital 5.1 English
Dolby Digital 5.1 Italian
Dolby Digital 5.1 Spanish

Directed By:
Jonathan Mostow

Written By:
John D. Brancato
Tedi Sarafian
Michael Ferris
Gale Anne Hurd
James Cameron

Starring:
David Andrews
Kristanna Loken
Claire Danes
Nick Stahl
Arnold Schwarzenegger

Casting By:
Randi Hiller
Sarah Finn

Soundtrack By:
Brad Fiedel
Blue Man Group
Marco Beltrami

Director of Photography:
Don Burgess

Editor:
Neil Travis
Nicolas De Toth

Costume Designer:
April Ferry

Production Designer:
Jeff Mann

Producer:
Arnold Schwarzenegger
Colin Wilson
Andrew G. Vajna
Joel B. Michaels
Hal Lieberman
Mario Kassar
Oliver Hengst
Matthias Deyle

Executive Producer:
Nigel Sinclair
Volker Schauz
Aslan Nadery
Gale Anne Hurd
Guy East
Moritz Borman

Distributor:
Columbia / Tristar