Review of Hitcher, The (Special Edition)
Introduction
Films can be lost through categorisation. Take Horror movies for instance. I can`t stand them. In general they may contain the occasional shock, but I never find them scary. I find their clichéd characterisations and tired retreads of hackneyed plots tedious and mind numbing. Unless of course Jennifer Love Hewitt is starring, but that is a matter for another review, heh heh. My point is that for several years, The Hitcher has dwelled in Horror movie sections everywhere, and for several years I have dismissed it as beneath my notice. The damnedest thing is, that it isn`t really a horror movie at all, kind of.
Jim Halsey is driving from Chicago to San Diego, and is having trouble staying awake whilst in the desert. Being the Good Samaritan he stops during a storm to pick up a bedraggled hitchhiker. However John Ryder is not as friendly as he seems, especially when he doesn`t want Jim to stop and help a stricken car by the side of the highway. After a few moments of abject terror, Jim manages to eject his psychotic guest and relieved, he counts himself lucky. But Jim`s nightmare is only beginning as John Ryder proceeds to tear apart his life.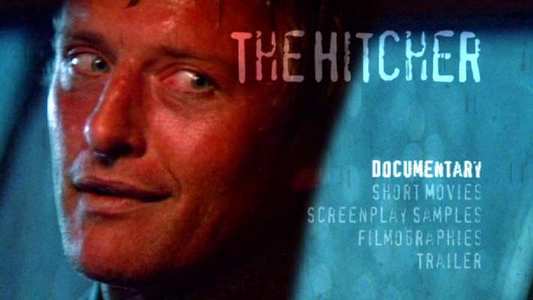 Video
The Hitcher is presented in 2.35:1 anamorphic widescreen. For a 1986 film, the picture is almost pristine. The image is strong and sharp throughout with vibrant colours and good contrast levels. There is the usual slight grain associated with eighties films and the picture is soft in one or two places, but that is hardly noticeable given the great direction by Robert Harmon and the absolutely breathtaking cinematography from John Seale. Every inch of the widescreen canvas is used and the barren isolated wastes of the American desert give a powerful sense of scale to the story.
Audio
The film has been given a DD 5.1 remix and it is a well-judged and accomplished update for the soundtrack. The surrounds are put to effective use creating a subtle ambience and come to life in moments of action. The music plays against the story in many ways, and is a gentle and often placid score from Mark Isham, which really works well to maintain unease through the film. There is also an effective use of silence for the same purpose. As well as the English track, there are DD 2.0 mono soundtracks in German and Spanish, complimenting a DD 2.0 Stereo Italian soundtrack. The film is subtitled in 9 languages.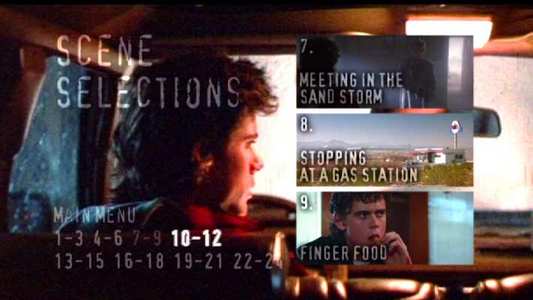 Features
This 2 disc special edition comes with a fair amount of extras. The first disc contains some nicely animated menus, and the presentation is sound.
Disc 1 as well as containing the film also contains two commentary tracks. The first is from Director Robert Harmon and writer Eric Red. It is an interesting and worthwhile commentary but suffers from long gaps. It`s as if they were reluctant to talk over the film`s dialogue and action. At one point they even tantalised with reference to an anecdote that they didn`t deliver. Nevertheless their comments are relevant if economic.
The second commentary is the better of the two and is a scene specific commentary from Robert Harmon, Rutger Hauer, C. Thomas Howell, Mark Isham, Edward S. Feldman, John Seale and Eric Red. This only runs for 55 minutes, and you are given the choice of listening to all the comments or just the contributions from one speaker. They are far more voluble in this commentary and this is easily more interesting.
The second disc contains the following…
The Hitcher: How Do These Movies Get Made? This is a recent documentary about the making of the film and features contributions from the same names that provided the scene specific commentary. There is a smidgen of repetition but nevertheless this is a fascination retrospective. It`s presented in 1.85:1 anamorphic and DD 2.0 sound and runs for 38 minutes.
There are also two short films; China Lake directed by Robert Harmon is his first film as a director and covers familiar ground. Notably an over the edge psycho cop on the loose. I didn`t watch all of it but it also has a commentary from Robert Harmon. (DD 2.0 sound, 2.35:1 letterbox, 35 minutes) The Room is a short film directed and starring Rutger Hauer and is an adaptation of a short story. It`s a gentle tale of a man`s fascination with a room told in narration and I thought it was brilliant. Again it comes with an audio commentary, this time from Rutger Hauer. (DD 5.1 sound, 2.35:1 letterbox, 10 minutes)
There are screenplay samples that are text pages you can access with your remote. These include two scenes excised from the script.
There are filmographies and two anamorphic trailers as well, both of which give too much away.
Marks are dropped for a lack of subtitles on any of the extras and it`s also a shame that the two shorts aren`t presented anamorphically.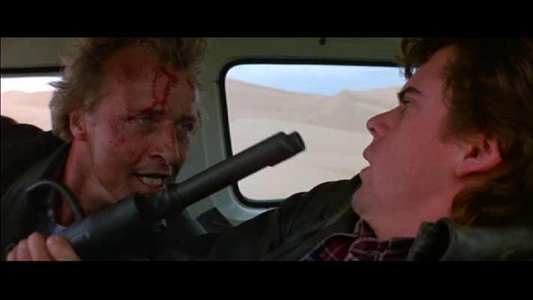 Conclusion
Once upon a time, Hollywood made films that transcended genre. It happens to a lesser degree today, but back then films didn`t necessarily insult audience intelligence. The Hitcher is one of those films that defy easy categorisation. I feel that it is a psychological thriller that follows horror conventions, but it`s interesting listening to the cast and the crew trying to pin it down in the documentary. Rutger Hauer states that it is more of a Grimm fairy tale and there is indeed something in that. The Hitcher works on many levels, and the simplest is indeed that of a horror movie. It follows all the conventions, the innocent teen, the dark stranger, gruesome (but implied) violence, and all moments that have you screaming at the screen as you anticipate another impending horror cliché.
But that is the least of its parts, as the film works deeply on a psychological level as well. In the first act when John Ryder first begins to specifically torment Jim Halsey, I was strongly reminded of Spielberg`s Duel but on amphetamines, but as the film progressed I began to see parallels with The Terminator. Both have similar characters in Sarah Connor and Jim Halsey, who start off as innocents thrust on an involuntary extreme rite of passage that hardens and tempers their characters. Connor faces the relentless machine of the Terminator where Halsey must deal with the psychopathic Hitcher that has an almost preternatural ability to hound his victim, playing with his mind. But where The Hitcher develops its unique identity is the character dynamic between Ryder and Halsey. The relationship develops through the film through some excellent performances on the parts of C. Thomas Howell and Rutger Hauer. Initially tormentor and victim, you see a game of cat and mouse develops between the two. Ryder`s motives are ambiguous, and the way that Hauer plays the character accentuates that. At the same time scary yet curiously tender with Halsey, you see shades of a mentor and even father figure. At the same time, Halsey is initially terrified of Ryder and understandably so, but as he begins to fight back he begins to develop something of a respect for his tormentor. Again this is only believable because of the creditable performance from Hauer. Ryder is a vicious, reprehensible psychopath, but Hauer manages to make the character sympathetic to a degree where I could start to relate to him.
This release is an excellent presentation of this thrilling movie. The picture and sound quality is top notch, and while the extras may be few, they are well chosen and on the whole fascinating. The short films are an inspired addition and well worth watching. There are a couple of minor flaws though.
The Hitcher is a stunning story, brilliantly told, which I am glad to have discovered although it took me 17 years. Don`t let the Horror label fool you, this is psychological thriller at its finest and you`ll be gripped from beginning to end. Make room in your diary to watch this film. And no, you can`t have a lift!