Scary horror Insidious coming to Blu-ray and DVD in September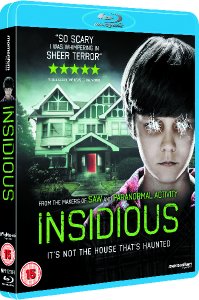 Insidious
On DVD and Blu-ray
"SO SCARY I WAS WHIMPERING IN SHEER TERROR." (5 STARS) - ROBBIE COLLINS, NEWS OF THE WORLD.
A global box office smash thanks in no small part to unprecedented critical acclaim and overwhelmingly positive word-of-mouth from cinemagoers who delighted in being scared witless by its supernatural shocks, the year's scariest movie,
Insidious
, comes to
DVD
and
Blu-Ray
on
12th September 2011
, giving thrill-seeking horror fans the opportunity to take the terror home.
Directed by
James Wan
, written by
Leigh Whannell
(together, the co-creators of the "Saw" movies) and produced by
Oren Peli
,
Steven Schneider
, and
Jason Blum
(the team responsible for "Paranormal Activity"),
Insidious
stars
Patrick Wilson
(Watchmen) and
Rose Byrne
(X-Men: First Class; Bridesmaids) in a chilling ghost story that has been hailed as "utterly terrifying" (Zoo), "unnervingly creepy" (Sunday Express), "nerve-shredding" (The Sun) and, in a Five Star review as "so scary I was whimpering in sheer terror" (Robbie Collins, News Of The World).
Eschewing the gross-out, "how much can you endure?" torture porn principles of many recent horror hits in favour of a return to the traditional and much more subtle method of thrilling the audience by playing on people's natural fears of the dark and the unknown, Insidious, like other horror classics such as "Poltergeist" and "The Exorcist", is a welcome reminder of how much fun it can be to be absolutely terrified by a movie.
The story concerns Josh (Wilson) and Renai Lambert (Byrne), a happily married couple recently moved into a new suburban home with their three young children. When their eldest son, Dalton, inexplicably falls into a coma his condition coincides with the start of a series of disturbing events that defy any rational explanation. The ghostly goings on suggest a sinister supernatural presence is at work in the house, one that is intent on tearing the Lambert family apart. Forced to seek unconventional help to protect themselves and their children, Josh and Renai are awakened to the terrifying truth - it's not the house that's haunted.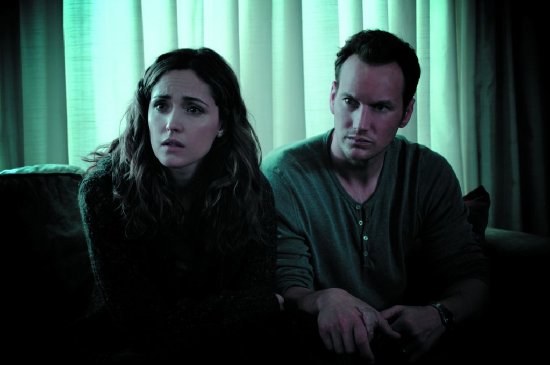 Co-starring
Barbara Hershey
(Black Swan),
Angus Sampson
(Spirited),
Lin Shaye
(2001 Maniacs: Field Of Screams),
Ty Simpkins
(Revolutionary Road) and
Andrew Astor
(The Hangover),
Insidious
is "a classy and chilling horror tale" (Sunday Mirror) and "one of the scariest, most entertaining, enjoyable horror-watching experiences in years" (Collider.com).
Insidious
(cert. 15) will be released on
DVD
(£15.99) and
Blu-ray
(£19.99) by
Momentum Pictures
on
12th September 2011
. Special Features include: Horror 101: The Exclusive Seminar; On Set With Insidious; Insidious Entities.
Label:
Momentum Pictures
Release date:
12th September 2011
Release type:
DVD, Blu-ray
Certificate:
15 Running time:
Pricing:
£15.99 (DVD), £19.99 (Blu-ray)
Genre:
Horror
Director:
James Wan
Stars:
Patrick Wilson, Rose Byrne, Barbara Hershey, Angus Sampson, Lin Shaye, Ty Simpkins, Andrew Astor