Harry Potter and The Sorcerer`s Stone (Widescreen) (US)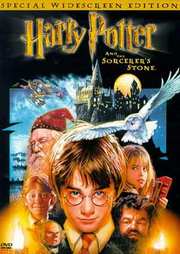 "You`re a wizard, Harry"
Certificate: PG
Running Time: 152 mins
Retail Price: $26.99
Release Date:
Content Type: Movie
Synopsis:
Harry Potter is an ordinary boy who lives in a cupboard under the stairs at his Aunt Petunia and Uncle Vernon`s house, which he thinks is normal for someone like him whose parents have been killed in a `car crash`. He is bullied by them and his fat spoilt cousin Dudley, and lives a very unremarkable life with only the odd hiccup (like his hair growing black overnight!) to cause him much to think about.
Until he is rescued by a beetle eyed giant of a man, enrols at Hogwarts School of Witchcraft and Wizardry, learns to play Quidditch and does battle in a deadly duel. All because Harry Potter is a wizard!

Follow the adventures of Harry Potter as he discovers the magical, the dangerous, the unpredictable world of Hogwarts School of Witchcraft and Wizardry.
Special Features:
Never-Before-Seen Footage
Self-Guided Tour Of Hogwarts
Mix Potions, Perform Transfiguratons, Explore Diagon Alley, Catch a Snitch and Much More
Theatrical Trailers
Scene Access

DVD-ROM Features:
Be Sorted by the Sorting Hat
Collect Wizard Trading Cards
Download Screensaver and Remembrall
Receive Owl E-mails
Link To The Web

Video Tracks:
Widescreen Anamorphic 2.35:1

Audio Tracks:
Dolby Digital EX 5.1 English

Subtitle Tracks:
CC: English

Directed By:
Chris Columbus

Written By:
Steven Kloves
J.K. Rowling

Starring:
Alan Rickman
Emma Watson
John Hurt
Daniel Radcliffe
Maggie Smith
Rupert Grint
Fiona Shaw
Robbie Coltrane
Richard Harris

Casting By:
Karen Lindsay-Stewart
Janet Hirshenson
Jane Jenkins
Susie Figgis

Soundtrack By:
John Williams

Director of Photography:
John Seale

Editor:
Richard Francis-Bruce

Costume Designer:
Judianna Makovsky

Production Designer:
Stuart Craig

Producer:
David Heyman
Paula DuPré Pesman
Tanya Seghatchian
Todd Arnow

Executive Producer:
Ilya Salkind
Michael Barnathan
Mark Radcliffe
Duncan Henderson
Chris Columbus

Distributor:
Warner Bros