Coppola's The Bling Ring steels its way onto DVD and Blu-ray in October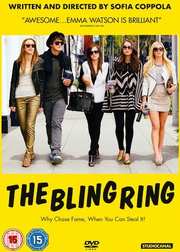 True story based drama, always a good go-to for Hollywood fodder, although often it ends up as a TV movie on Channel 5. Not so this time, as when a director like Sofia Coppola takes an interest, the big screen is its only destination.
Well actually not quite, a while after it turns up on DVD and Blu-ray, in this case courtesy of
StudioCanal
on 28th October. Written and directed by Coppola,
The Bling Ring
stars Emma Watson, Taissa Farmiga, Israel Broussard, Claire Julien, Katie Chang and Leslie Mann.
With a runtime of 90 minutes, or 86 due to PAL speed-up on the DVD edition, extras will include
Making The Bling Ring
featurette,
Behind The Real Bling
featurette,
Scene Of The Crime With Paris Hilton
featurette and an interview with Sofia Coppola.
The recommended retail price will be £17.99 for the SD version, and £22.99 for the HD release.
Synopsis and trailer follow...
In the fame-obsessed world of Los Angeles, a group of teenagers take us on a thrilling and disturbing crime-spree in the Hollywood hills. Based on true events, the group, who were fixated on a life of glamour, tracked their celebrity targets online, and stole more than $3 million in luxury goods from their homes. Their victims included Paris Hilton, Orlando Bloom, and Rachel Bilson, and the gang became known in the media as The Bling Ring.
This film takes us inside the hedonistic world of these youthful teenage wannabes, where naivete and excitement is amplified by the culture of luxury and fame.