Rocky 5 Disc Box Set (UK)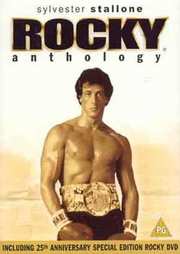 A knock-out 25th Anniversary box set
Certificate: PG
Running Time: 510 mins
Retail Price: £49.99
Release Date:
Content Type: Movie
Synopsis:
This box set contains the Special Edition of Rocky, and Rocky II, III, IV, and V.

`Rocky` is the film that catapulted Sylvester Stallone into the international spotlight and launched one of the most successful series of films in movie history. `Rocky` won the 1976 Academy Award for Best Picture and two nominations for Stallone for leading actor and writer.

This is the story of a loser, a two bit boxer from Philadelphia, who gets a second chance in life by being offered an impossible shot at the heavyweight title. Stallone`s performance is as powerful as his character`s punches in the ring. This is one of the most exciting action movies you will ever see.
Special Features:
Interactive Menus
Scene Access
Audio Commentary with Director, Producer and Crew
Stallone Interview about the making of the film
John Avildsen (Director), presents the making of the fight footage using his 8mm camera footage
Tribute to Burgess Meredith
Tribute to James Crabe (Cinematographer)
Special Hidden feature (Rocky meets Stallone)
TV Spots
2 Original Theatrical Rocky Trailers
Rocky II, III, IV and V Original Theatrical Trailers
Hidden Feature Stallone meets Rocky

Video Tracks:
Widescreen Anamorphic 1.85:1

Audio Tracks:
Dolby Digital 5.1 English

Subtitle Tracks:
Hebrew
Polish
Swedish
Finnish
Turkish
English
Portuguese
Greek
Hungarian
Dutch
Danish
Norwegian

Starring:
Burgess Meredith
Carl Weathers
Burt Young
Talia Shire
Sylvester Stallone

Distributor:
Metro Goldwyn Mayer