Natural, The (UK)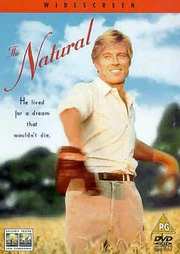 The dream of baseball superstardom
Certificate: 12
Running Time: 132 mins
Retail Price: £19.99
Release Date:
Content Type: Movie
Synopsis:
Nothing was going to stop Roy Hobbs from fulfilling his boyhood dream of baseball superstardom.
Robert Redford stars in this inspiring fable that begins when 14-year-old Hobbs (Redford) fashions a powerful bat from a fallen oak tree. He soon impresses major league scouts with his ability, fixing his extraordinary talent in the mind of sportswriter Max Mercy (Duvall), who eventually becomes instrumental in Hobbs` career. But a meeting with a mysterious woman shatters his dream.
Years pass and an older Hobbs reappears as a rookie for the New York Knights.
Overcoming physical pain and defying those who have a stake in seeing the Knights lose, Hobbs, with his boyhood bat, has his chance to lead the Knights to the pennant and to finally fulfill his dream.
Special Features:
The Heart of the Natural - Documentary
Theatrical Trailer
The Way We Were Trailer

Video Tracks:
Widescreen Anamorphic 1.85:1

Audio Tracks:
Dolby Digital Mono Spanish
Dolby Digital Mono German
Dolby Digital Mono Italian
Dolby Digital Stereo 2.0 English
Dolby Digital Mono French

Subtitle Tracks:
French
Hebrew
Polish
Czech
Italian
Hindi
Swedish
Finnish
Turkish
English
Spanish
German
Portuguese
Greek
Hungarian
Dutch
Arabic
Danish
Norwegian

Directed By:
Barry Levinson

Written By:
Phil Dusenberry
Roger Towne
Bernard Malamud

Starring:
Wilford Brimley
Kim Basinger
Glenn Close
Robert Duvall
Robert Redford

Casting By:
Ellen Chenoweth

Soundtrack By:
Randy Newman

Director of Photography:
Caleb Deschanel

Editor:
Stu Linder

Costume Designer:
Bernie Pollack
Gloria Gresham

Production Designer:
Angelo P. Graham
Mel Bourne

Producer:
Mark Johnson
Robert F. Colesberry

Executive Producer:
Roger Towne
Philip M. Breen

Distributor:
Columbia Pictures