Review for Sisters
Sisters (1973)
Director: Brian De Palma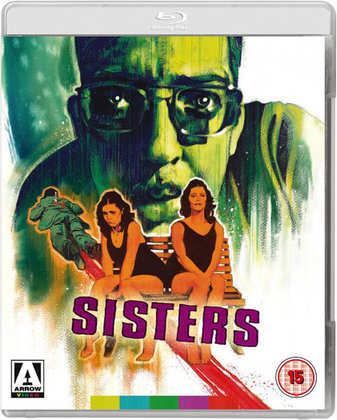 Introduction
Arrow Films continue to exhume the filmography of much maligned "movie brat" Brian De Palma, with the sixth in their series of his work.
Sisters was the 1973 effort that really put De Palma on the map. A pseudo-horror, psychological Giallo flick, it delivered enough excitement and the required pyrotechnics to get De Palma noticed. It was also the first real dalliance that De Palma made within the thriller genre, the semi-professional Murder a' la Mod notwithstanding. Thus, Sisters is one of the most important entries in the director's oeuvre, being arguably the first of his works that distinctly fills his typical stylistic remit. Sisters has also often been credited as the effort that earned him the gig directing Carrie, a job that resulted in a monstrous success, and one of his most memorable films.
Sisters also stars Margot Kidder, the future Lois Lane, and Jenifer Salt, who will not be overly familiar to most. However, she's earned quite a name for herself behind the scenes in recent years, in key production/writing positions of Nip/Tuck and American Horror Story. Adding to the lustre, is William Finley, who would go on to deliver one of his finest performances for De Palma a year later with Phantom of the Paradise.
With Music by Bernard Herrmann, Sisters continues to court passionate, split opinion, and invite comparisons to Hitchcock. After all these years, does it stand on its own merits?
Film
Margot Kidder stars as Danielle, a budding actress who begins the film playing the role of a blind woman on a show. Afterwards, she hooks up with the game-show's contestant, Phillip Woode (Lisle Wilson), for an impromptu date. Their subsequent, and otherwise pleasant evening is ruined somewhat by the appearance of her ex, Emil Breton (played by a deranged William Finley). Doctor Breton it seems, has a thing for following his ex-wife around.
Finally losing the good Doc, Phillip and Danielle finally manage a night of passion. The following morning, our hero overhears Danielle arguing with her sister Dominique. Phillip nips out, but before long, a brutal murder occurs in Danielle's apartment. Fortunately, there's a witness, in the shape of opposite-building-dweller, and peeping tom journalist, Grace (Jenifer Salt). Grace believes there's more to the murder than meets the eye, and launches her own dangerous investigation into the sisters, with diabolical consequences...
Not the well-rounded masterpiece that is Blow-Out, Sisters nonethless is one of De Palma's most curious thrillers. It finds the director on slightly more sedate form than the likes of Carrie and The Fury, but this is not a criticism by any means. In fact, it works much better for reigning in some of the fireworks. There's an occasional, and very typically De Palma flourish that comes across as somewhat hokey- in a similar manner to the conclusion of Dressed to Kill. A video-tape investigating the conjoined twins is amazingly sensationalistic and the films does play with the threat of entering into disbelief, but it's all part of the fun.
However, the film also masterfully incorporates split-screens, in a manner that was highly experimental for the time, and still holds up well today, more so than with many of the filmmaker's later works in fact.
More procedural than one would perhaps expect, Sisters is at times a very lurid experience with nods to Rear Window, Argento's Suspiria, and a great feeling for the Seventies generally. The initial murder is superbly staged, recalling some of Dario Argento's finest, most excessive Giallo, and indeed, foreshadowing their impact.
It also contains numerous De Palma motifs, including split-screens, film/TV shows within the film, tracking shots, and the suggestions of shying from violence, before launching right back into it. In other words, it's every bit as immersive and distinctive as his finest work.
Extras
As is the standard with Arrow's releases, this is crammed with excellent material.
-What the Devi Hath Joined Together
A meaty, 45 minute Justin Humphreys visual essay. This impressive dissection delves into topics such as psychosexual analysis, and inspects some of the fascinating source material behind Sisters. There are some fantastic snapshots of De Palma and his circle from the early Seventies, which brilliantly help recapture the struggling renegade vibe that seemed to follow the young director. This is an excellent feature.
-The De Palma Digest. A really absorbing 30 minute audio retrospective through the career of De Palma. Narrated by critic, Mike Sutton, and accompanied by still photographs from all of his work. Occasionally, it's a little defensive and apologetic, considering how poorly regarded several of his films are, justifiably so. At the same time, De Palma fans will find many great points and arguments to pick up upon here. Newcomers should be aware that this dissection is filled with spoilers for much of De Palma's work, and should be avoided for those unfamiliar and hoping to enjoy them spoiler free.
The disc also contains, Cast and Crew Interviews, The Original Theatrical trailer & an International Poster Gallery. Best of these, is the standard collectors' booklet included in the package, this one in particular is fantastic. In all, it's a fine selection, even if more De Palma himself would have been the icing on this cake.
Overall
Sisters has neither aged as badly as some of De Palma's work, nor does it genuinely reach the heights of Blow Out or Dressed to Kill. That does not mean this is not a fascinating piece though. Sisters comes across like a lurid time capsule of Seventies horror cinema at the formative stages of becoming genuinely arresting and challenging. There's an almost "Cronenbergesque" vibe to the medical aspect, and it would make a fine companion piece to the Canadian's own output from the same decade. While derogatory Hitchcock comparisons have haunted De Palma for years, they're usually overblown and irrelevant. With Sisters, De Palma delves into very Hitchcockian territory, and there are audacious moments of obvious tribute/pastiche, but this is to the film's benefit.
Sisters is a great film in its own right, all reference points aside.