Lesson of Evil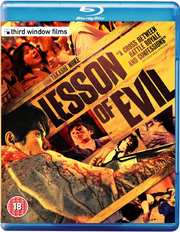 Everyone in class, slaughtered.
Certificate: 18
Running Time: 129 mins
Retail Price: £19.99
Release Date: 2014
Content Type: Movie
Synopsis:
Hideaki ITO stars as the teacher from Hell, in Takashi MIIKE's outrageous, blood-splattered, high school horror.

Cool and charismatic English teacher Seiji Hasumi (ITO) is popular with students and teachers alike. He inspires trust and respect from his class, greeting many with an affectionate, if irritating, ruffle of the hair. But his actions soon take a turn, revealing something dark behind that charming smile. Students become suspicious when friends slowly start to disappear, but little do they know that absolute jaw-dropping carnage is just around the corner.

Adapted from Yusuke KISHI's horror novel, Aku no Kyōten, a commentary on tough high school life and dark student–teacher relationships, with plenty of black humour, absurd violence, and a splash of Cronenbergian fantasy added for good measure.
Special Features:
Theatrical Trailer
Making Of

Video Tracks:
2.35:1 widescreen 1080p

Audio Tracks:
DTS-HD MA 5.1 Surround Japanese

Subtitle Tracks:
English

Directed By:
Takashi Miike

Written By:
Takashi Miike
Yûsuke Kishi

Starring:
Hideaki Ito
Fumi Nikaido
Shota Sometani
Kento Hayashi
Kodai Asaka
Mitsuru Fukikoshi
Takayuki Yamada

Casting By:
Sawako Ohzu

Music From:
Kôji Endô

Director of Photography:
Nobuyasu Kita

Editor:
Kenji Yamashita

Producer:
Koji Higashi
Misako Saka
Toru Mori
Hisashi Usui

Executive Producer:
Minami Ichikawa

Distributor:
Third Window Films