Essential Asian Horrors released by Palisades Tartan on October 26th
October 26th saw the release of two Essential Horror boxsets by Palisades Tartan each with an RRP of £24.99.  Palisades Tartan brings together six of Asia's most acclaimed horror movies in two DVD triple bills that perfectly illustrate why Hollywood has been so keen to remake and rip-off these truly original classics of Asian cinema.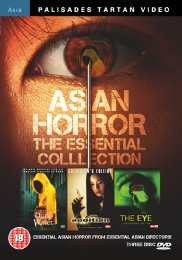 This incredible three-disc collection includes Takashi Miike's AUDITION, 'Ring' director Hideo Nakata's DARK WATER and The Pang Brothers' THE EYE. 
Directed by cult auteur Takashi Miike (Ichi The Killer; Visitor Q) and starring Ryo Ishibashi (The Grudge) and Eihi Shiina (Tokyo Gore Police), the notorious shocker AUDITION begins with a lonely widower sitting in on auditions for a non-existent movie project primarily set up to help him find a new wife. Entranced by one particular candidate, a former ballerina, he takes her phone number and eventually invites her to dinner. But this soft-spoken beauty isn't quite what she seems and soon the whispers of romance are replaced by screams of terror. 
Forget the Hollywood remake - director Hideo Nakata's welcome return to the horror genre (in which he made his name with the 'Ring' movies) is the real deal. A sinister and edgy ghost story about a mother and daughter whose rundown apartment has unexplained damp patches on the walls and ghostly apparitions from a young girl, DARK WATER does for bathtubs what his previous two hits did for video players. 
Pan-asian auteurs Danny and Oxide Pang (Bangkok Dangerous) bring their famed editing skills to bear on the horror genre in THE EYE, a tense and creepy tale that focuses on Mun, a cornea-transplant recipient who has been blind most of her life. Adjusting to her newfound sight, Mun begins to see haunting and disturbing images of dead people. As the visions increase in frequency, she turns to a young psychiatrist for help in discovering the identity of the deceased donor responsible for her restored sight.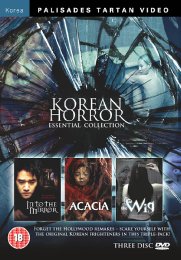 This three-disc collection includes Kim Sung-ho's INTO THE MIRROR, Park Ki-hyung's ACACIA and Won Shin-yeon's THE WIG. 
Recently given the Hollywood remake treatment as 'Mirrors', directed by Alexandre Aja (Switchblade Romance; The Hills Have Eyes) and starring Keifer Sutherland, Kim Sung-ho's INTO THE MIRROR is a creepy and highly stylized horror tale involving Wu Young-min, a cop who has quit the police force after inadvertently killing his partner. Now working at a department store, Wu encounters his ex-rival, who is in charge of investigating a series of murders at the store, and finds himself being pulled into the sinister investigation. 
Park Ki-hyung's ACACIA tells of an obstetrician and his wife who, unable to have a child of their own, decide to adopt a 10-year-old boy, Jin-seung. When the wife later falls pregnant and has a baby, Jin-seung becomes so incensed by jealousy he runs away. During his absence a dead tree in the garden, where he used to play, mysteriously comes to life and fills the house with a heavy scent. Then a variety of strange events begin to occur, all of them seemingly related to the mysterious tree. 
Creepy chills meet visceral horror in Won Shin-yeon's beautifully shot THE WIG, the tale of Ji-hyeon, a young woman who buys her terminally ill sister a new wig to hide the hair loss resulting from her treatment. After her sister starts making an alarming comeback in mental health to the point of being hostilely aggressive and overbearingly sexual, Ji-hyeon soon discovers the disturbing truth about the history of the wig.