The Pang brothers bring supernatural thriller Omen to your living room this October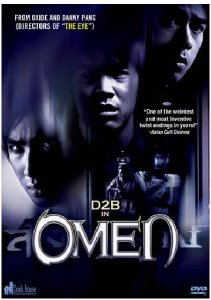 "Chilling and frightening."
-10k Bullets
"Weirdest and inventive twist ending"
-Asian Cult Cinema
THE MASTERMINDS BEHIND
BANGKOK DANGEROUS & THE EYE
BRING YOU
OMEN
AVAILABLE ON DVD OCTOBER 17, 2011
LONDON (September 22, 2011) -
Some omens are good, others not so much. Written, produced and edited by Thai horror vets turned Hollywood filmmakers Oxide and Danny Pang
(BANGKOK DANGEROUS, THE EYE)
, and starring the Thai Boy Band Sensations D2B comes
OMEN
, a supernatural thriller inspired by true events. Starting October 17, you can show your support of quality international cinema by purchasing a copy of the terrifying Thai thriller
OMEN
that boasts a surprising twist ending that will blow you away!
SYNOPSIS:
From Oxide & Danny Pang (
The Eye, Bangkok Dangerous),
comes a new kind of twisted terror! Three friends encounter a spooky old woman who makes grim predictions about their futures. Each friend is soon thrown into strange and threatening situations that bear resemblance to the old woman's story. Are these mere coincidences, or the harbingers of inevitable doom? It seems that one of the three is destined to die - but who? Can the other two help prevent their friend's death?
Inspired by true events,
OMEN
is a tale of twisted reality and exploding possibilities, of fate and destiny and how our actions shape our futures.
ACCLAIM:
Twin brother directing team Oxide and Danny Pang are known for the gritty and critically praised
BANGKOK DANGEROUS
(1999), for which they helmed a Hollywood remake with Nicolas Cage. They also directed
THE EYE
which won widespread industry horror praise and spawned its own Hollywood remake in 2008 starring Jessica Alba.
BONUS FEATURES:
The D2B Story
Band Member Profiles
Trailer
Upcoming Release Trailers
OMEN
Palisades Tartan
Genre:
Supernatural Thriller
Rating:
15 (Contains sustained psychological threat)
Language:
Thai (English Subtitles)
Format:
DVD
Running Time:
76 minutes (Plus Special Features)
Suggested Retail Price:
£7.99
Street Date:
9/12/11
Catalog #:
TVD-4042
UPC Code:
5037899022412