Asian Horror: The Essential Collection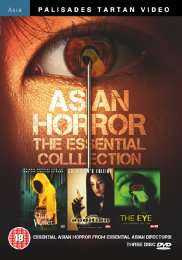 Essential Asian horror from essential Asian directors!
Certificate: 18
Running Time: 302
Retail Price: £24.99
Release Date: 26/10/2009
Content Type: Movie
Synopsis:
The Eye
Welcome to a world where nothing is as it seems. Here, the blind see through the haunted eyes of the dead, strange forces pla cruel tricks on the mind , and the spirits of those departed haunt the living.

Described by Jonathan Ross as "genuinley spooky", this dark and chilling tale from the now legendary Pang Brothers is already set for a Hollywood remake. Packed with a host of spine-tingling set pieces and featuring a spectacular finale to rival any blockbuster, this is the must-see Asia Extreme original.

Containing stunning new DTS-ES 6.1 Discrete and Dolby 5.1 EX Surround mixes, this digitally re-mastered edition has been encoded at the highest possible bit rate to deliver the very best playback quality possible.

Audition
When maverick director Miike Takashi unleashed this stylish slice of extreme cinema upon a unsuspecting audience, few where ready for what they were about to experience. Since then, this twisted vision of a hell on earth has become a notorious, critically acclaimed classic that has to be seen to be believed.

Following his son's advice, widower Shigeharu Aoyama decides that it's time to look for a new wife. By devising a plan to hold auditions for the part of a female lead in a non-existent production, he uses his professional position to track her down. Among the many applicants, he is struck by the mysterious charm of Asami, a quiet 24-year old woman, and asks her for a date.

Finding that Asami is responsive to his attentions, Aoyama becomes convinced that she is the woman for him. But when he asks her to accompany him on a romantic holiday, things take a dark and disturbing turn. Soon Aoyama will discover that there is a side to Asami that he could never have imagined, even in his most depraved nightmares.

Dark Water
From the internationally acclaimed director of the blood curdling Ring comes Dark Water, a brooding and unsettling masterpiece of modern horror cinema.

When Yoshimi's marriage breaks down, she and her daughter are forced to find a new place to live. Desperate for stability during a time of anguish and uncertainty they settle for an apartment in a gloomy, run down block of flats. Once there, the discovery of a schoolbag left behind by a mysterious young girl, along with the appearance of damp patches on the ceiling and walls begins to haunt them. Soon they will both learn the sinister truth behind these events, and their lives will change forever...

This truly terrifying tale is guaranteed to have you on the edge of your seat as its chilling intensity increases to the almost unbearably nerve-shredding climax.
Special Features:
- Trailers
- TV Spots
- Director Interview: Miike on Miike

Video Tracks:
Anamorphic Widescreen

Audio Tracks:
Dolby Digital 2.0 Japanese and Mandarin
Dolby Digital 5.1 Japanese and Mandarin
DTS 5.1 Japanese and Mandarin

Subtitle Tracks:
English

Directed By:
Hideo Nakata
Takashi Miike
Pang Brothers

Distributor:
Palisades Tartan