Audition: Collector's Edition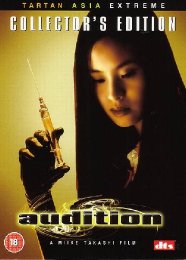 She always gets a part
Certificate: 18
Running Time: 111 mins
Retail Price: £19.99
Release Date: 02/07/2004
Content Type: Movie
Synopsis:
When maverick director Miike Takashi unleashed this stylish slice of extreme cinema upon a unsuspecting audience, few where ready for what they were about to experience. Since then, this twisted vision of a hell on earth has become a notorious, critically acclaimed classic that has to be seen to be believed.

Following his son's advice, widower Shigeharu Aoyama decides that it's time to look for a new wife. By devising a plan to hold auditions for the part of a female lead in a non-existent production, he uses his professional position to track her down. Among the many applicants, he is struck by the mysterious charm of Asami, a quiet 24-year old woman, and asks her for a date.

Finding that Asami is responsive to his attentions, Aoyama becomes convinced that she is the woman for him. But when he asks her to accompany him on a romantic holiday, things take a dark and disturbing turn. Soon Aoyama will discover that there is a side to Asami that he could never have imagined, even in his most depraved nightmares.
Special Features:
Star and Director Filmographies
Film Notes
Mike Takeshi Interview
Trailers

Video Tracks:
Widescreen Anamorphic 1.78:1

Audio Tracks:
Dolby Digital Stereo 2.0 Japanese
Dolby Digital 5.1 Surround Japanese
DTS 5.1 Japanese

Subtitle Tracks:
English

Directed By:
Takashi Miike

Written By:
Ryû Murakami
Daisuke Tengan

Starring:
Miyuki Matsuda
Renji Ishibashi
Jun Kunimura
Tetsu Sawaki
Eihi Shiina
Ryo Ishibashi

Soundtrack By:
Kôji Endo

Director of Photography:
Hideo Yamamoto

Editor:
Yasushi Shimamura

Costume Designer:
Tomoe Kumagai

Production Designer:
Tatsuo Ozeki

Producer:
Akemi Suyama
Satoshi Fukushima
Junichi Endô

Executive Producer:
Toyohama Yokohama

Distributor:
Tartan Video