Klondike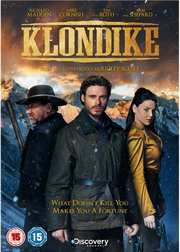 Certificate: 15
Running Time: 272 Mins
Retail Price:
Release Date: 05/05/2014
Content Type: TV Series
Synopsis:
Bill Haskell (Richard Madden) is an ambitious young man who having just graduated from college is desperate to leave New York City and make a name for himself. Along with his best friend, he sets off for the Yukon to stake his claim on the gold that remains untapped in the hills near Dawson City.

Their journey is an arduous one, covering thousands of miles where they encounter harsh and deadly terrain but it isn't until Haskell arrives in Dawson City that he realises the real danger is only just beginning.

A brand new six-part epic mini-series from executive producer

Ridley Scott.
Special Features:
Discovering Klondike-Featurette

Related Websites:
http://klondiketv.com/about-the-mini-series.html
http://entertainmentone.com/home

Starring:
Abbie Cornish
Richard Madden
Tim Roth
Sam Shepard
Tim Blake Nelson

Distributor:
Entertainment One