Oliver Stone's controversial JFK heads to Blu-ray this November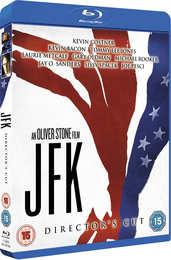 What better way to commemorate the tragic death of a popular US president than releasing a controversial historical drama by Oliver Stone?
Twentieth Century Fox Home Entertainment
have
JFK: Director's Cut
out on Blu-ray this coming 4th November.
This stars Kevin Costner, Kevin Bacon, Tommy Lee Jones, Laurie Metcalf, Gary Oldman, Sissy Spacek, Joe Pesce, Jay O. Sanders and Michael Rooker.
Extras will include a director's commentary track, deleted and extended scenes with optional commentary from Stone, just in case the movie isn't long enough already for you,
Beyond JFK: The Question of Conspiracy
featurette,
Meet Mr. X: The Personality & Thoughts of Fletcher Prouty
and
Assassination Update: The New Documents
multimedia essays.
With a runtime of a mere 180 minutes, three hours in old money, the recommended retail price will be an unusually reasonable £15.99.
A bit of marketing blurb, synopsis and trailer follow...
"The death of JFK continues to be a defining moment in US history and the loss of this visionary man is still felt around the world," commented Stone. "Being able to present my film now on Blu-ray magnifies the story I was trying to tell."
Upon examining the Warren Commission report on President Kennedy's assassination, New Orleans district attorney Jim Garrison suspects that there is more to the story than the public is being told.