The Girl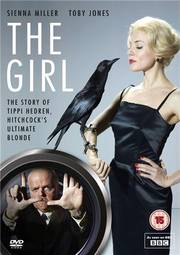 Certificate: 12
Running Time: 90 MIns
Retail Price: £12.99
Release Date: 07/01/2013
Content Type: Movie
Synopsis:
Alfred Hitchcock was at the height of his fame and creativity when, in 1962, he chose an unknown fashion model to star in his most ambitious film - The Birds. But as he sculpted Tippi Hedren into the perfect Hitchcock blonde of his imagination, he became obsessed with the impossible dream of winning the real woman's love.

Their mutual desires - hers for fame, his for fantasy - would all but destroy both of their careers in what would become a passionate and destructive struggle for survival.

Screenwriter Gwyneth Hughes has interviewed Tippi Hedren, and surviving members of Hitchcock's crew. This film tells their full tragic story for the first time. Starring Toby Jones (Harry Potter, Titanic, Tinker Tailor Soldier Spy) and Sienna Miller (Layer Cake, Alfie, Factory Girl), supported by Imelda Staunton (Harry Potter, Vera Drake) and Penelope Wilton (Downton Abbey). Directed by Julian Jarrold (Appropriate Adult).
Special Features:
Behind the Scenes Featurette
Photo Gallery

Related Websites:
http://www.acornmediauk.com/the-girl.html

Directed By:
Julian Jarrold

Starring:
Toby Jones
Sienna Miller
Imelda Staunton