Mongol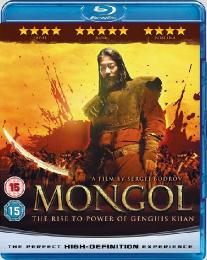 The Rise To Power Of Genghis Khan
Certificate: 15
Running Time: 126
Retail Price: £24.99
Release Date: 29/09/2008
Content Type: Movie
Synopsis:
Academy Award Nominee (2008, Best Foreign Language Film) Mongol - The Rise To Power Of Genghis Khan, tells the story of the legendary warrior Genghis Khan (Japanese actor Asano Tadanobu) who, born as Temudgin in 1162, went on to establish the vast Mongol Empire, stretching from modern day China to Eastern Europe.

Directed by award-winning Russian film maker Sergei Bodrov, this epic opens with 9 year-old Temudgin (Odnvam Odsuren) and his father travelling through the immense, sprawling Mongolian steppe to find the young Temudgin a bride. Displaying an early iron will, Temudgin defies his father's wishes and chooses the spirited Borte (Mongolian actress Khulan Chuluun), who goes on to become his life long companion.

On their journey home, Temudgin's father is brutally murdered and Temudgin's own life put in grave danger; and so begins a brutal and nomadic existence with long periods of imprisonment and slavery for the young Genghis Khan.

As the film develops, we join Temudgin as he battles to unite the warring Mongol tribes and bring the first semblance of a recognised law and order to the vastness of the Steppe.

We also meet his dearest childhood friend and deadliest enemy, Mongol Chieftain Jamukha (Chinese actor Honglei Sun), with whom Temudgin must fight to establish supremacy.

Complete with epic set-piece battles and bloody confrontation, this stunningly filmed feature takes its audience on a bewitching journey through the intricacies of Mongolian culture and custom and ultimately captures the humanity and compassion of a man traditionally written off as a war mongering and barbarous tyrant.
Special Features:
Making Of featurette
Trailer

Video Tracks:
2.35:1 Anamorphic Widescreen

Audio Tracks:
DTS HD Master Mongolian
Dolby Digital 2.0 Mongolian

Subtitle Tracks:
English

Directed By:
Sergei Bodrov

Written By:
Arif Aliyev
Sergei Bodrov

Starring:
Tadanobu Asano
Honglei Sun
Khulan Chuluun
Odnyam Odsuren

Director of Photography:
Rogier Stoffers
Sergei Trofimov

Producer:
Sergei Bodrov
Anton Melnik
Sergei Selyanov

Executive Producer:
Bob Berney
Alec Schulman

Distributor:
Universal Pictures