The Sniper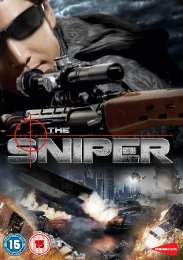 The Loneliness of the Long-Range Shooter
Certificate: 15
Running Time: 83 mins
Retail Price: £12.99
Release Date: 2012
Content Type: Movie
Synopsis:
From Dante Lam, director of the pulse-pounding "The Beast Stalker", comes the equally intense action-thriller, The Sniper, starring Richie Ren (Seoul Raiders; Breaking News), Edison Chen (The Dark Knight; the Grudge 2; Initial D - Drift Racer) and Huang Xiaoming (Ip Man 2; The Message; The Founding Of A Republic).

When ex-Hong Kong police sharpshooter Lincoln (Xiaoming) is released from prison after serving time for the alleged manslaughter of a kidnapper during a hostage situation he has only one thing on his mind: revenge on those responsible for putting him behind bars. At the top of his hit list is former colleague and fellow marksman Hartman (Jen), who Lincoln believes withheld key evidence at his trial that could have led to his acquittal. Lincoln's plan involves setting up the largest heist the city has ever known, hoping that this will draw his prey to him.

Meanwhile, a hot-headed rookie, OJ (Chen), has joined Hartman's team and quickly begins to exhibit the same level of shooting skills that made Lincoln such a legend on the force. OJ becomes fascinated by Lincoln, to the point where Hartman worries that he may begin to emulate his former teammate's cavalier attitude towards the job at hand.

As the day of the heist dawns, lines are drawn as Lincoln sets out to re-enact the operation that sealed his fate, thereby initiating the ultimate showdown between the three expert snipers.
Special Features:
Trailer

Video Tracks:
2.35:1 anamorphic widescreen

Audio Tracks:
Dolby Digital 5.1 Surround Cantonese
Dolby Digital 2.0 Stereo Cantonese

Subtitle Tracks:
English

Directed By:
Dante Lam

Written By:
Dante Lam
Wai Lun Ng

Starring:
Richie Ren
Xiaoming Huang
Edison Chen
Bowie Lam
Kai Chi Liu
Jack Kao
Wilfred Lau
Mango Wong

Director of Photography:
Man Po Cheung

Editor:
Angie Lam

Production Designer:
Alfred Yau

Producer:
Candy Leung

Executive Producer:
John Chong

Distributor:
Chelsea Films