Kung Fu Hustle: Gift Set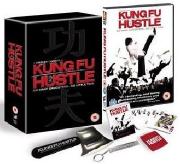 So many gangsters... So little time
Certificate: 15
Running Time: 96 mins
Retail Price: £29.99
Release Date: 2005
Content Type: Movie
Synopsis:
From walking disaster to Kung Fu master: it's a new comedy unlike anything you have seen before!

In the 1940's Chinese province of Guangdong, petty thief Sing (Stephen Chow) aspires to become a member of the notorious Axe gang, the fiercest, cruel and most widespread crime syndicate in the city. However, Sing is just a street rascal (trying to ignore the fact that his heart is actually in the right place) and so he ventures into the run-down Pig Sty Alley to prove his worth.

However, in attempting to extort money from the hairdresser Sing unwittingly exposes the plump landlady, her hen-pecked husband, the camp tailor and rugged coolie as martial arts masters in hiding. Coming to the attention of the Axe gang who want to clear out the apartments, Sing's actions have set off a relentless chain of events that brings the clans together in an explosive battle!

Stephen Chow continues his unique comedy style that first came to the attention of the West in 'Shaolin Soccer', mixing slapstick in the finest tradition of Buster Keaton; to marvellous martial arts choreographed by none other than Yuen Woo-ping (The Matrix, Kill Bill); to dance sequences with tuxedoed gangsters; to moments of genuine pathos concerning Sing's mysterious history involving a beautiful mute lollipop vendor...
Special Features:
Key ring
Sweatband
Playing cards
Inflatable axe
Audio commentary (English, Dutch & Spanish subtitles only) from the cast and crew, including Stephen Chow
Deleted scenes
TV special: behind the scenes of the movie (42 mins)
Interview with writer/director/actor Stephen Chow (28 mins)
Outtakes and bloopers
International poster gallery
TV spots

Video Tracks:
2.40:1 anamorphic widescreen

Audio Tracks:
Dolby Digital 5.1 Surround English
Dolby Digital 5.1 Surround Cantonese
Dolby Digital 5.1 Surround Spanish
Dolby Digital 2.0 Surround English Audio Descriptive

Subtitle Tracks:
English
Dutch
Greek
Portuguese
Spanish

Directed By:
Stephen Chow

Written By:
Stephen Chow
Xin Huo
Chan Man Keung
Kan-Cheung Tsang

Starring:
Stephen Chow
Xiaogang Feng
Wah Yuen
Zhi Hua Dong
Kwok-Kwan Chan
Chi Chung Lam
Siu-Lung Leung
Qiu Yuen

Music From:
Stephen Chow
Raymond Wong
Hang Yi
Xian Luo Zong

Director of Photography:
Hang-Sang Poon

Editor:
Angie Lam

Costume Designer:
Shirley Chan

Production Designer:
Oliver Wong

Producer:
Stephen Chow
Po Chu Chui
Jeffrey Lau

Executive Producer:
Bill Borden
David Hung
Zhonglei Wang
Hai Cheng Zhao

Distributor:
Sony Pictures Home Entertainment