8 Million Ways to Die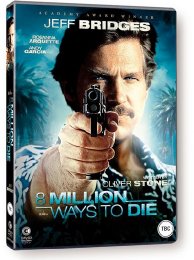 On DVD for the first time...
Certificate: TBC
Running Time: 110mins
Retail Price: £15.99
Release Date: 12/10/11
Content Type: Movie
Synopsis:
8 Million Ways To Die is the gripping final film from legendary director
Hal Ashby with a screenplay by Hollywood great Oliver Stone and starring
Oscar- Winner Jeff Bridges in the lead role.

This cult film stars an outstanding supporting cast led by Rosanna Arquette and Andy Garcia and makes its DVD debut on 12 September 2011 courtesy of Second Sight.

Jeff Bridges plays alcoholic LA drugs cop Matthew Scudder who shoots a suspect in a drugs raid and spirals downhill fast losing both his job and his wife. He tries to clean up his act and quit drinking, but this isn't easy when a hooker named
Sunny (Alexandra Paul), begs him for protection and winds up dead. He is drawn back into a world of vice as he hunts down her killer among LAs seedy
underbelly of pimps and drug dealers. This fast paced eighties crime-thriller
sees Jeff Bridges at his all action best.
Special Features:


Directed By:
Hal Ashby

Written By:
Oliver Stone

Starring:
Jeff Bridges
Rosanna Arquette
Andy Garcia
Alexandra Paul

Casting By:
Lynn Stalmaster

Music From:
James Newton Howard

Director of Photography:
Stephen H.Burum

Editor:
Robert Lawrence
Stuart H. Pappe

Costume Designer:
Gloria Gresham

Production Designer:
Michael D.Haller

Producer:
Stephen J.Roth
Charles Mulvehill

Executive Producer:
Mark Damon

Distributor:
Second Sight