Revenge of the Creature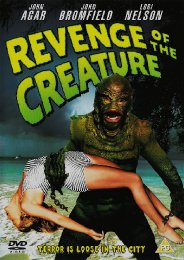 Terror is loose in the city
Certificate: PG
Running Time: 78
Retail Price: £14.99
Release Date: 08/11/2010
Content Type: Movie
Synopsis:
A murderous creature, half-man and half-fish, leads George Johnson (BOB WILLIAMS) and Joe Hayes (GEORGE BROMFIELD) to the black lagoon in the Amazon jungle. Johnson is owner of fans join the chief attendant as Ocean Harbour, a Florida establishment which exhibits all forms of marine life.

The two Americans succeed in capturing the creature alive. The creature is taken back to Ocean Harbour and is put on exhibition in a special tank.

Clete Ferguson (JOHN AGAR) a young professor of animal psychology, and Helen Dobson (LORI NELSON), a graduate study the monster. Helen assists Clete in his experiments. A romance develops between the young couple. The creature takes an instant liking to Helen, which severely hampers Ferguson's efforts to communicate with him. The creature tugs constantly at its chain and eventually breaks free and disappears.

The creature, unable to stop thinking about Helen, begins to stalk her and eventually captures her. The local law enforcement must now try to track down Helen and her amphibious abductor.
Special Features:
None

Video Tracks:
Full frame 1.33:1

Audio Tracks:
Dolby Digital 2.0 Mono English

Directed By:
Jack Arnold

Written By:
William Alland
Martin Berkeley

Starring:
John Agar
Lori Nelson
John Bromfield
Nestor Paiva
Grandon Rhodes
Dave Willock
Robert Williams
Charles Cane
Ricou Browning
Clint Eastwood

Soundtrack By:
William Lava
Herman Stein

Director of Photography:
Scotty Welbourne

Editor:
Paul Weatherwax

Producer:
William Alland

Distributor:
Final Cut Entertainment