7 Days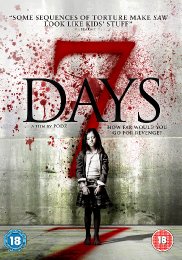 How Far Would You Go For Revenge?
Certificate: 18
Running Time: 106
Retail Price: £12.99
Release Date: 23/08/2010
Content Type: Movie
Synopsis:
Middle-aged surgeon Bruno Hamel (Claude Legault), his wife Sylvie (Fanny Mallette) and their eight-year-old daughter Jasmine (Rose-Marie Coallier) are living a happy but fairly uneventful life in the quiet suburban town of Drummondville. That all changes one beautiful autumn afternoon when Jasmine fails to return home from school and is later found to have been raped and murdered by a local man, Anthony Lemaire (Martin Dubreuil). The loss of their daughter has a profound effect on Bruno and Sylvie, driving a wedge between them and leaving both, particularly Bruno, drowning in a whirlpool of despair.

When the killer-rapist is eventually arrested and scheduled to appear in court charged with the multiple murders of young female victims, Bruno's emotions turn from guilt and grief to anger and a desire for revenge inspiring him to hatch a detailed plot to kidnap Lemaire, take him to a secret location and make him pay for his crimes. Everything goes according to plan and with the monster now in his custody Bruno contacts the police and reveals his terrifying intentions: he will torture Lemaire for seven days before executing him and then turning himself in…

A dark exploration of the mind of a man driven to the edge of sanity by his own grief, this bold thriller with graphic scenes of violence that push the scenario into the realms of pure horror premiered at the Sundance Film Festival 2010 to wide acclaim.
Special Features:
- Trailer

Video Tracks:
Anamorphic Widescreen 2.35:1

Audio Tracks:
Dolby Digital 5.1 French
Dolby Digital 2.0 French

Subtitle Tracks:
English

Directed By:
Daniel Grou

Written By:
Patrick Senécal

Starring:
Claude Legault
Rémy Girard
Martin Dubreuil
Fanny Mallette
Rose-Marie Coallier
Alexandre Goyette
Dominique Quesnel
Pascale Delhaes

Soundtrack By:
Nicolas Maranda

Director of Photography:
Bernard Couture

Editor:
Valérie Héroux

Costume Designer:
Brigitte Desroches

Producer:
Nicole Robert

Distributor:
E1 Entertainment