[Rec]2 out on DVD and Blu-ray in September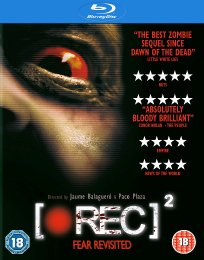 After terrifying audiences with their nerve-shredding cult hit 'REC', acclaimed filmmakers
Jaume Balaguero
(Darkness; Fragile) and
Paco Plaza
(Romasanta: The Werewolf Hunt) return to crank the fear factor to unprecedented levels with the highly anticipated sequel,
REC 2
, which is already being hailed as a "leader for this year's most frightening feature" (Fangoria).
A rare thing in being a sequel that actually improves on its predecessor and exceeds all expectations,
REC 2
has been described as "one of the best horror sequels in recent years" (Shortlist), "bloody terrifying" (Metro), "an intense watch" (The Sun) and "absolutely brilliant" (The People, Five Star Review).
When a small, local TV news crew consisting of anchorwoman Angela Vidal and her cameraman Pablo signed on to film the work of a squad of firemen working the night shift in the suburbs of Barcelona, they had no idea of the nightmare they were about to encounter. Answering a routine call to rescue an old lady trapped in her apartment, they become caught up in the middle of an inexplicable situation that rapidly spirals out of control. Sealed within the apartment block along with its residents by the city's authorities, who believe there is a deadly virus on the loose, Angela, Pablo and the firemen struggle to survive against a growing menace within their midst while trying to find a way out. As the terror unfolds, Pablo continues filming, documenting a series of shocking events that are way beyond human comprehension…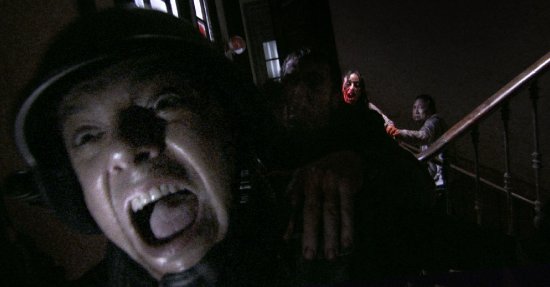 REC 2
picks up mere minutes after the 'conclusion' of the first film, just after the authorities have lost contact with the few survivors left within the building. Quickly realising the gravity of the situation at hand, the Spanish government has sent in a heavily armed SWAT team, accompanied by a government medical official, on a search and rescue mission. But all is not as it seems, and soon these highly trained soldiers find themselves at the mercy of an unspeakable evil that must be contained at all costs. Meanwhile, a small group of thrill-seeking teenagers has also infiltrated the building, unaware of the horrors they are about to face.
An "adrenaline-filled rollercoaster ride" (Daily Express) that "makes 'The Exorcist' seem like a soothing therapy" (The Daily Star),
REC 2
is "so scary it will make your head spin" (News Of The World, Four Star Review).
REC 2
(cert. 18) will be released on
DVD
(£17.99) and
Blu-ray
(£22.99) by
E1 Entertainment
on
20th September 2010
. Special Features include: Extended Scenes; Deleted Scenes; Making Of 'In An Infected World' (Blu-ray only); Behind The Scenes (Blu-ray only).
Also released on
20th September 2010
is the original
REC
Special Edition on
Blu-ray
(£19.99) for the very first time and featuring almost 3 hours of extras, including: The Making of REC; Crew Interviews; Extended Scenes; Deleted Scenes; Behind The Scenes Footage.
Also see the Facebook page here
http://www.facebook.com/recmoviesuk