Urban British horror Cherry Tree Lane arrives on DVD in September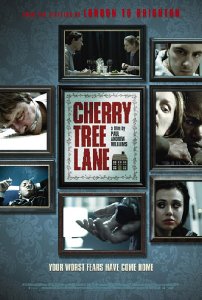 CHERRY TREE LANE
Your worst nightmare right at your door…
DVD Release date: 13th September 2010
Running time: 78 minutes
DVD RRP: £15.99
Cert:
18
From the acclaimed director of 'London To Brighton' comes this chilling edge-of-your-seat tale of urban horror.
An ordinary British family face their worst fears when their normal, everyday lives are destroyed, piece by brutal piece, by a group of vicious youths who subject them to a vicious barrage of humiliation and violence. While the evening starts like any other, with the family settling down for a quiet evening in front of the telly, a simple knock at the front door will leave its bloody mark on them forever…
Writer-director Paul Andrew Williams carves his signature vision on the urban horror genre with this relentless slice of violence and terror - your home will never feel safe again.
Extra Features:
● Commentary with Writer/Director Paul Andrew Williams
● Behind Closed Doors featurette
● Rehearsing the Horror featurette
● Out-takes
● Two trailers