Classic British horror Witchfinder General hits Blu-ray in June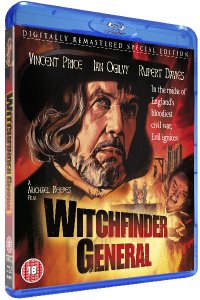 Witchfinder General
This brand new completely restored and uncut version of the Michael Reeves classic is available on Blu-Ray for the very first time!
SYNOPSIS
England is in civil war as the Royalists battle Oliver Cromwell's Roundheads for control. This conflict distracts people from rational thought and allows unscrupulous men to gain power by exploiting village superstitions. One of these men is Matthew Hopkins (Vincent Price), who tours the land offering his services as a persecutor of witches. Aided by his sadistic accomplice John Stearne (Robert Russell), he travels from town to town and wrenches confessions from "witches" in order to line his pockets.
Extras include:
Audio Commentary
with Michael Reeves biographer Benjamin Halligan and Director Michael Armstrong.
Documentary: The Blood Beast:
The Films of Michael Reeves (24 Mins)
Documentary: Bloody Crimes
: Witchcraft and Matthew Hopkins (24 Mins)
Vincent Price on Aspel & Company
(10 Mins)
Intrusion:
Michael Reeves Short Film with optional commentary. (
Never before commercially released
)
Alternate Scenes
from the Export Version.
Theatrical Trailer
and
Stills Gallery
.
A
lternate US Opening and closing Credits.


Release Date:
13/06/2011
Cat No:
ODNBF001
Barcode:
5060082516078
Cert:
18
Running Time:
83 minutes
Director:
Michael Reeves