Dutch zombie comedy Kill Zombie! comes to DVD in September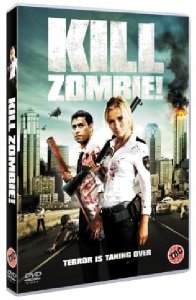 Can you ever have enough zombie films? Clearly it's the the end of the world scenario that prays most on our minds, or perhaps just the one we all wish for.
Anyway, following it's premiere at
FrightFest
,
distributor
Kaleidoscope Home Entertainment
is all set to release Martjin Smits and Erwin Ven Den Eshof's horror comedy
Kill Zombie
this 17th September on DVD.
This Dutch movie is described by the marketing blurb as a blood-thirsty, super-sharp zombie romp that genre fans are going to devour. Alas no details on extras, but we do know the recommended retail price will be £15.99.
Synopsis and trailer follow...
When a Russian Space station crash lands on a city, a deadly virus spreads, turning the inhabitants into psychopathic flesh eaters.
After spending the night safely locked up in a jail cell, two brothers and two crazy criminals emerge to find their hometown devastated, and at the centre of a zombie outbreak.
When one of the brothers receives a cry for help from a survivor, they join forces with the local police officer and embark on a reluctant rescue mission, pitting their wits, and risking their lives against these mutant killers.