Dead Snow (Blu-ray Disc)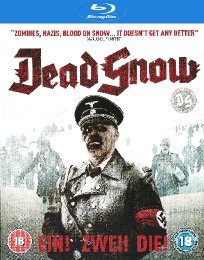 Ein! Zwei! Die!
Certificate: 18
Running Time: 88
Retail Price: £22.99
Release Date: 31/08/2009
Content Type: Movie
Synopsis:
Loaded with skis and beer, eight excited medical students eagerly set off to a remote cabin in the snow topped Norwegian Mountains for some snow sports and drunken fun during their Easter break. Expecting drinking, sledding and flirtation, the mood suddenly changes as a local hiker wraps on their cabin door revealing that they have come to the wrong resort as deep in the hills lay an unthinkable evil.

The area that they are holidaying in was used by the Nazis during the German occupation of Norway in World War II. For three years the Nazis murdered, raped and pillaged until a vengeful uprising by a merciless mob drove them out of Oksford and into the nearby mountains where they allegedly froze to death, never to be heard of again.

Spooked by their strange visitor the students discover a box of Nazi gold in the cabin which raises the zombi Nazis who return to reclaim their treasure - with delightful and deadly results!
Special Features:
• Ein! Zwei! Die! - The Making of Dead Snow
• Cast and Crew at Sundance
• Make-up Featurette
• Special Effects Featurette
• Trailers

Video Tracks:
1080p Widescreen 1.85:1

Audio Tracks:
DTS-HD Master Audio 5.1 Norwegian
LPCM 2.0 Norwegian

Subtitle Tracks:
English

Directed By:
Tommy Wirkola

Written By:
Tommy Wirkola
Stig Frode Henriksen

Starring:
Vegar Hoel
Stig Frode Henriksen
Charlotte Frogner
Lasse Valdal
Evy Kasseth Røsten
Jeppe Laursen
Jenny Skavlan
Ane Dahl Torp
Bjørn Sundquist
Ørjan Gamst

Soundtrack By:
Christin Wibe

Director of Photography:
Matthew Weston

Editor:
Martin Stoltz

Costume Designer:
Linn Henriksen

Production Designer:
Liv Ask

Producer:
Terje Stroemstad
Tomas Evjen

Executive Producer:
Espen Horn
Kjetil Omberg
Harald Zwart

Distributor:
E1 Entertainment