Wrong Turn 3: Left For Dead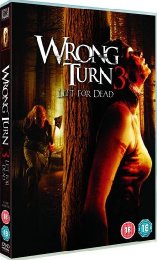 What You Don't See Will Kill You
Certificate: 18
Running Time: 88
Retail Price: £15.99
Release Date: 11/01/2010
Content Type: Movie
Synopsis:
When a group of innocent teenagers find themselves trapped and stalked in the dark deserted woods of West Virginia by a group of flesh-eating hillbillies, their fight for survival begins against these vicious and unrelenting highly skilled killers.

The crashing of a bus transferring prisoners, who overjoyed at potential freedom flee into the woods only to become an additional feast to the disfigured and violent group of rednecks.

Packed the horrific and original gratuitous deaths, as one after another the victims are hunted down by the merciless cannibals, this is one blood thirsty, shocking gorefest that is not to be missed.
Special Features:
- Action, Gore and Chaos! (featurette)
- Brothers in Blood (featurette)
- Three Finger's Fight Night (Featurette)
- 2 x Deleted Scenes

Video Tracks:
Anamorphic Widescreen 1.85:1

Audio Tracks:
Dolby Digital 5.1 English
Dolby Digital 5.1 French

Subtitle Tracks:
English HoH
French
Danish
Finnish
Dutch
Norwegian
Swedish

Directed By:
Declan O'Brien

Written By:
Connor James Delaney

Starring:
Tom Frederic
Janet Montgomery
Gil Kolirin
Christian Contreras
Jake Curran
Tom McKay
Chucky Venice
Tamer Hassan
Jack Gordon
Louise Cliffe
Charley Speed
Borislav Petrov
Borislav Iliev
Mike Straub
Bill Moody
Emma Clifford
Mac McDonald

Casting By:
Gillian Hawser

Soundtrack By:
Claude Foisy

Director of Photography:
Lorenzo Senatore

Editor:
Raúl Dávalos

Costume Designer:
Maria Mladenoza

Production Designer:
Bobby Michaels

Producer:
Jeffery Beach
Phillip J. Roth

Executive Producer:
Erik Feig
Robert Kulzer

Distributor:
Twentieth Century Fox Home Entertainment