The Horseman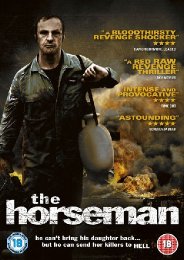 He can't bring his daughter back... but he can send her killers to HELL
Certificate: 18
Running Time: 96
Retail Price: £15.99
Release Date: 01/03/2010
Content Type: Movie
Synopsis:
Shortly after losing his daughter to a drugs overdose, pest controller Christian receives a horrifying tape of her performing in an amateur porn film. Enraged and unable to come to terms with what he has seen, he sets out to track down those involved.

Using his own unique brand of brutal and inventive questioning, he moves closer to locating the final suspect and completing the extermination! Along the way, he reluctantly picks up Alice - an awkward young runaway - and an unlikely bond develops that pushes Christian closer to the edge than ever.

A multi-award winning and intensely unique Australian movie that explosively follows in the traditions of Wolf Creek and Chopper, The Horseman is a red-raw insight into one man's quest for very a painful sort of vengeance and retribution.
Special Features:
- The Making of The Horseman
- Deleted Scenes
- Trailer

Video Tracks:
Anamorphic Widescreen 1.78:1

Audio Tracks:
Dolby Digital 5.1 Surround English

Directed By:
Steven Kastrissios

Written By:
Steven Kastrissios

Starring:
Peter Marshall
Caroline Marohasy
Brad McMurray
Jack Henry
Evert McQueen
Christopher Sommers

Soundtrack By:
Ryan Potter

Director of Photography:
Mark Broadbent

Editor:
Steven Kastrissios

Producer:
Steven Kastrissios
Rebecca Dakin

Distributor:
Kaleidoscope Home Entertainment