Brit horror flick Psychosis hits DVD in July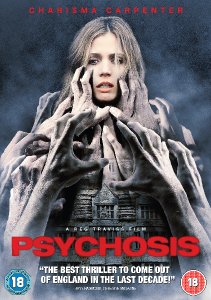 From director Reg Traviss (
Joy Division
) comes the nerve-shredding new British horror
Psychosis
, available to buy and rent on DVD from 19th July, courtesy of Lionsgate Home Entertainment.
Beautiful scream queen Charisma Carpenter (TV's
Buffy the Vampire Slayer
,
Angel
) stars alongside heartthrob British model Paul Sculfor in his debut acting role. The cast also includes veteran horror stars Ricci Harnett (
28 Days Later
,
Rise of the Footsoldier
) and Sean Chapman (
Hellraiser
) and glam rock legend Justin Hawkins. When Susan (Charisma Carpenter,
Buffy the Vampire Slayer, Angel
), a successful horror novelist relocates from California to the rural English countryside in search of peace, the newly-wed finds it in an idyllic, remote sanctuary.
But soon after settling in Susan is unnerved by disturbances in her picturesque manor house and unsettling encounters with her creepy neighbours. Before long her dream of tranquillity unfolds into a nightmare as reality and delusion transcend into one and Susan is pushed to the point of madness. A modern twist on the cult British horror films of the 1970s,
Psychosis
is a mind-shattering journey into the darkest recesses of the human imagination.
Release Date: 19th July 2010 / Certificate: 18 /
Running Time: 89 minutes approx
© Lions Gate Home Entertainment UK Ltd. All Rights Reserved.