Director's Cut of In the Name of the King hits DVD in July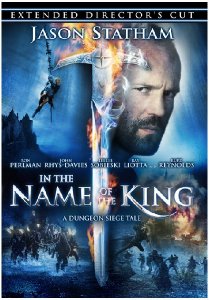 IN THE NAME OF THE KING:
Director's Cut
DVD Release date: 19th July 2010
Running time: 155 minutes
DVD RRP: £15.99
Cert:
15
CONTAINS 37 MORE MINUTES OF ACTION, ADVENTURE AND STATHAM!
Action superstar Jason Statham and iconic director Uwe Boll join forces for more breathtaking action adventure in this specially extended director's cut of the best selling fantasy extravaganza!
A simple farmer is forced to take up arms after evil tyrant Gallian unleashes a bloodthirsty army that ravages his village and ensnares his family.
With an all-star cast, including Ron Perlman (
Hellboy
), Burt Reynolds (
Boogie Nights
) and Ray Liotta (
Goodfellas
), at hand to join in the fight and incredible battle scenes by the world-renowned action choreographer of 'Hero',
In The Name of The King
delivers the most thrilling spectacle you could possibly imagine.
Now, that spectacle is bigger, bolder and more boisterous than ever!
Please note:
There are no extra features on this disc