More DVD action courtesy of UFC stars in Death Warrior this July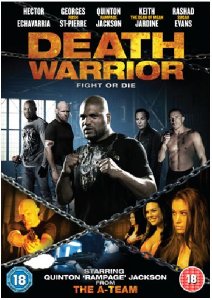 DEATH WARRIOR
WHERE YOU FIGHT TO WIN AND WIN TO LIVE
Released by E1 Entertainment on Monday 26th July 2010
Death Warrior
, released exclusively on DVD through
E1 Entertainment
on
Monday 26th July 2010
, is the underground, hard-hitting, mixed martial arts thriller, where failure only leads to death.
Featuring some of the biggest and best Ultimate Fighting Championship fighters including the current UFC Welterweight title-holder
Georges 'Rush' St. Pierre
and former UFC Light heavyweight champion,
Quinton 'Rampage' Jackson
,
who also stars in the new version of '
The A Team.
' Death Warrior is packed full of suspense and action - a bare-knuckle, adrenaline-fueled, MMA extravaganza.
Death Warrior features imaginative fights scenes where there are no rules; this dramatic tale follows the story of Rainerio played by
Hector Echavarria
. The film also stars
Keith 'The Dean of Mean' Jardine
and
'Sugar' Rashad Evans
as they once againtransfer their mixed martial arts skills from the Octagon to the big screen.
Undefeated MMA champion Rainerio Isandro (Echavarria), is about to retire and choose a quieter life with his wife when he is forced to enter the warped world of underground fighting. Run by a vicious and unscrupulous gang, the fights are broadcasted on the internet where people place bets on who will win the fight - but in these ultra-violent battles winning means killing your opponent.
Rain is forced to fight against his will to save his wife, Kira, who has been injected with a slow-acting neurotoxin by the gang.
In a desperate race against time, Rain knows he must fight other blackmailed MMA fighters in a bid to make it to the ultimate showdown and become the one and only Death Warrior.
Death Warrior
is directed by
Bill
Corcoran
and written by
Eamon Glennon
and
Hector Echavarria
and is available to buy on DVD from
Monday 26th July 2010
.
© 2009 DEATH WARRIOR FILMS INC. ALL RIGHTS RESERVED
Packaging © E1 Entertainment 2010.
DVD Details
Release date:
26th July 2010
Running time:
86 mins
Format:
16x9
Audio format:
English 5.1 / 2.0
Cert:
18
Cat No:
E1E51277
Barcode:
5030305 51277 4
RRP:
£12.99
Extras:
None
Consumer advise: Contains strong violence and sexualised nudity