Never Surrender out now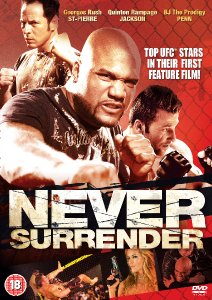 Introducing the superstars of UFC in their first ever feature film...
NEVER SURRENDER
THE CAGE DOOR OPENS ON MONDAY 22ND JUNE 2009
For the first time ever, the world-famous superstars of the Ultimate Fighting Championship join forces for their big screen debut in a high octane action epic delving into the blood-thirsty underbelly of Mixed Martial Arts.
On
22nd June 2009
,
Never Surrender,
available on DVD, will plunge audiences into the heart-stopping core of MMA with a turbulent tale of 'kill or be killed' as world champion Diego Carter discovers that the real fight begins outside of the octagon - and as the stakes rise higher than ever, do you fight for money, glory or for sheer blood lust? 
When a sexy promoter lures MMA World Champion Diego Carter (Hector Echavarria) into the illegal world of underground cage fighting, he quickly realises that he is embroiled in a violent grapple for survival… and there are no referees in the fight for his life.  
With women, wheels, and world-class fighters -
Never Surrender
takes you to the edge of terror in this unparalleled feature film.  Directed by and staring MMA fighter turned Hollywood legend Hector Echavarria (
Confessions of a Pit Fighter
) and an impressive line-up of UFC superstars including Quinton 'Rampage' Jackson, Georges 'Rush' St. Pierre and BJ Penn;
Never Surrender
will grasp audiences with an unrelenting choke-hold from the opening bell.  
DVD Details
Released:                            ITV Global Entertainment            
Format:                                1 x DVD               
Running Time:                   85 minutes approx
Released:                            Monday 22nd June 2009
Cert:                                      18                                                          
Price:                                     £15.99  
Notes to editor
About ITV DVD:
ITV DVD is part of Granada Ventures, the highly profitable and fast growing consumer products division within ITV Plc. It is the company behind one of the UK's most comprehensive film and video collections with over 3000 titles and is a major player in the home entertainment market. The range includes titles in contemporary and classic film (Shawshank Redemption, Fabulous Baker Boys, Brief Encounter, The Red Shoes), children's titles (Numberjacks, Thunderbirds, Pocoyo, Engie Benjy), drama (Inspector Morse, Cracker, Prime Suspect, Murphy's Law, Lewis, Ultimate Force) sport (Arsenal, and Liverpool football clubs) and interactive DVDs (Antony Cotton's Rovers Return Pub Quiz, Little Britain Interactive, Classic Bullseye Interactive). ITV DVD also owns the video rights for the Rank and ITC film collections which contain over 1500 classic British films.