Scifi Thriller The Box hits DVD and Blu-ray in April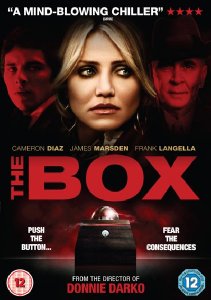 CAMERON DIAZ
From the Director of Donnie Darko
THE BOX
"A mind-blowing chiller" - **** Empire
An irresistibly compelling sci-fi thriller,
The Box
features an inherently fascinating premise - would you accept a million dollars if you knew this meant a stranger would die?  Adapting an episode of the
Twilight Zone
by legendary sci-fi thriller author Richard Matheson (
I Am Legend
),
Donnie Darko
director
Richard Kelly
cultivates an atmosphere of palpable unease via a deliberately paced, lushly visual evocation of 70s paranoia in this must see film. 
Set for DVD release by
Icon Home Entertainment
on
19 April 2010
,
The Box
stars Hollywood A-listers
Cameron Diaz
(The Holiday, Shrek, Charlie's Angels),
James Marsden
(
X Men, 27 Dresses, Enchanted
) and
Frank Langella
(Frost/Nixon).  With a plot that is filled with unanswered questions and sinister dilemmas,
The Box
will grab you and not let you go until the final outcome is compellingly revealed. 
Synopsis
A happy, young couple, Norma (Diaz) and Arthur Lewis (Marsden) receive a simple wooden box as a gift.  The box is accompanied by a mysterious stranger (Langella) who delivers the message that the box promises to bestow upon its owner $1 million with the press of a button.  However, pressing the button will simultaneously cause the death of another human being somewhere in the world... someone they don't know.  With just 24 hours to have the box in their possession, Norma and Arthur find themselves faced with a moral dilemma that could have dire consequences. 
ENDS
Release Information
Retail release date:                                                      
19th April 2010
Retail DVD DLP UK/ROI:                                              
£17.99 / €0.00
Retail Blu-ray DLP UK/ROI
:                                         £17.99 / €0.00
Cert:                                                                                    
15 TBC
Configuration:                                                                 
DVD and Blu-ray disc
Credit:                                                                                
Icon Home Entertainment
DVD catalogue No:                                                        
DVD RETAIL ICON10198 / DVD RENTAL ICON30198
Blu-ray catalogue No:
                                                   ICON70198
DVD barcode:                                                                  
DVD RETAIL 5051429101989 / DVD RENTAL 5051429301983

Blu-ray barcode
:                                                                                               5051429701981
DVD/Blu-ray Extras:
GROUNDED IN REALITY:  Director Richard Kelly is a filmmaker known for his bizarre and unique storytelling. Explore how his own family's experiences-both professional and personal- helped him expand the classic short story into a feature film. RT 10:40               
RICHARD MATTHESON: IN HIS OWN WORDS:  An intimate interview with a sci-fi legend, Richard Matheson, about his career, his inspirations, the films that have been made from his books and more. RT 4:48 
MUSIC VIDEO PREQUELS:  Exhibits A-B-C:   Go beyond the story with these short, surveillance montages that expand beyond the story and into a secretive world where you are the experiment. RT 9:15 
VISUAL EFFECTS REVEALED:  Expertly guided by Visual Effects Editor Dylan Highsmith, get not only the before and after shots, but the chronological sequences from the most difficult scenes in the film - Arlington's Face Water Coffins and Transforming Richmond. RT 3:38
Copyright Line:
 © 2010 Icon Home Entertainment.  All Rights Reserved.