Psychosis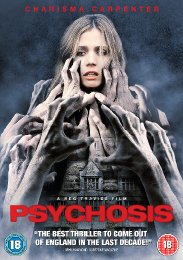 Certificate: 18
Running Time: 89
Retail Price: £12.99
Release Date: 19/07/2010
Content Type: Movie
Synopsis:
When Susan (Charisma Carpenter, Buffy the Vampire Slayer, Angel), a successful horror novelist relocates from California to the rural countryside in search of peace, the newly-wed finds it an idyllic, remote sanctuary.

But soon after settling in Susan is unnerved by disturbances in her picturesque manor house and unsettling encounters with her creepy neighbours. Before long her dream of tranquillity unfolds into a nightmare as reality and delusion transcend into one and Susan is pushed to the point of madness.

A modern twist on the cult British horror films of the 1970s, Psychosis is a mind shattering journey into the darkness recesses of the human imagination.
Special Features:
- The Making of Psychosis
- Deleted Scenes

Video Tracks:
Anamorphic Widescreen 1.78:1

Audio Tracks:
Dolby Digital 5.1 Surround English

Subtitle Tracks:
English HoH

Directed By:
Reg Traviss

Written By:
Reg Traviss

Starring:
Charisma Carpenter
Paul Sculfor
Riccy Harnett
Justin Hawkins
Katrena Rochell
Ty Glaser
Sean Chapman
Bernard Kay
Richard Raynesford
Thomas Gaughan
Eileen Pollock

Soundtrack By:
Scott Shields

Director of Photography:
Bryan Loftus

Editor:
John Palmer

Costume Designer:
Gesa Matyshok

Production Designer:
Melanie Light

Producer:
Patrick Fischer

Executive Producer:
Philip Gutzwiller
Rupert Ingram
Ben Jacques
Daniel Millar
Cyril Moser
Richard Raynseford
Katena Rochell
Mark Rowe

Distributor:
Lions Gate Home Entertainment