The Horseman out on DVD and Blu-ray in March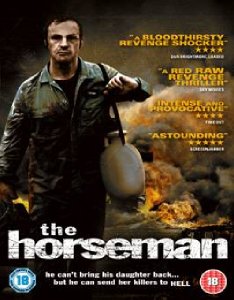 THE HORSEMAN
ON DVD & BLU-RAY 1ST MARCH 2010
Written & Directed by: Steven Kastrissios
Starring:
Peter Marshall
Caroline Marohsay
Brad McMurray
"Get Carter meets Oldboy…a bloodthirsty revenge shocker"
★★★★
DAN BRIGHTMORE, LOADED
"Intense and provocative....a revenge thriller in the spirit of Peckinpah"
★★★★
TREVOR JOHNSTON, TIME OUT
"Astounding…the best action-thriller-horror genre flick in recent memory"
★★★★★
BEENTOTHEMOVIES.COM
2008 MELBOURNE UNDERGROUND FILM FESTIVAL
Winner, Best Australian Film
Winner, Best Australian Director
Synopsis:
An action-packed, multi-award winning Australian thriller, The Horseman features a range of powerhouse performances in an unflinching study of grief & retribution. Explore the dark fantasies we all dream up when Christian
(Peter Marshall)
is sent a horrifying pornographic video featuring his recently deceased daughter. 
Setting out to find answers, he soon spirals into a world of violence and recklessness as he follows the links through the industry with his unique methods of brutal questioning.  
Driving through north Queensland to locate the final suspect, he reluctantly picks up Alice
(Caroline Marohasy),
an awkward young runaway and an unlikely bond develops. But as the crime is pieced together, an ugly truth is revealed that leads everyone down a dangerous path.
www.TheHorsemanFilm.com
RUNNING TIME:
100 MINS
CERT:
18
PRICE:
£15.99 RRP (BLU-RAY RRP: £19.99)
CAT NO:
KAL8044 (BLU-RAY: KAL8045)
BARCODE:
5060192810431 (BLU-RAY: 5060192810448) 
SPECIAL FEATURES: 
DVD:
Dolby Digital 5.1 & 2.0 Sound
The Making of Horseman (36 minutes)
Deleted Scenes 
BLU-RAY:
Blu-Ray exclusive: 'The Horseman Short Movie - Original Short Story' (16 minutes)
Dolby Digital 5.1 & 2.0 Sound
The Making of Horseman (36 minutes)
Deleted Scenes