Jeong-won Shin directed Chaw out in DVD this March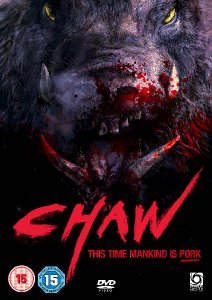 WILD BOAR, WILD GORE:
CHAW
Directed by Jeong-won Shin
Starring Tae-woong Eom, Yoon Jae-Moon
& Josiah D. Lee
Out To Own On DVD / EST March 1st 2010
UK PREMIERE
Blackly funny and equally terrifying,
Chaw
follows in the footsteps of
The Host,
as another remarkable entry into the canon of new wave Korean cinema and the Asian monster movie revival. After foolishly scribbling "anywhere" on his transfer application form, Seoul-based cop Kim Kang-soo (Tae-woong Eom) finds himself moved down to a sleepy, supposedly "crime-free" village in South Korea: Semeri. But the subdued, scenic once popular tourist resort is about to become hell on earth. In the local mountains the mutilated remains of a young girl have been found. The local police assume it's a grisly homicide, but Kim realizes they're very wrong and soon Semeri's citizens will see their beloved town turned into a gruesome bloodbath. A legendary hunter in the region, Chun Il-man, is convinced the deaths are the work of a man-eating boar and, full of fear, the villagers invite him to catch it…
Chaw
is the flesh eating, mutant offspring of
Twin Peaks
and
Razorback
with special effects from the team behind
Lemony Snicket, The Perfect Storm, Day After Tomorrow
and
Star Wars
prequels
.
Extras:
trailer
Tech Specs: Cert: 15 / Feat. Running Time: 117 mins approx / Region 2
Aspect Ratio: 1.78:1 / Colour PAL / Dolby Digital 5.1 / Cat No: OPTD1773 / Korean with English Subtitles / RRP: £15.99