Sleeping Bride
There are some films that you come across which have a collaboration that really makes you wonder how the hell the movie came to be made in the first place. Sleeping Bride is one of them. It is based on the popular Japanese manga The Glass Brain by Osamu Tezuka, the man probably best known for writing Astro Boy, and directed by Hideo Nakata who is primarily known for his horror films like Ring and Dark Water -- a more unlikely couple you would struggle to find.

I have actually owned Sleeping Bride on DVD for several years but haven't yet watched it -- it came as part of the Ring Trilogy box set but, though I have watched the Ring movies several times, I just haven't got around to watching the other Hideo Nakata film in the box set. Anyway, fast forward a few years and Palisades Tartan are giving it a release all of its own. The premise is quite simple: a young boy, Yuichi, is hospitalised because of his asthma and, in a room at the end of the main corridor, lies a young girl who has been in a coma her entire life. Her mother, one of the few survivors of a massive plane crash, was brought out alive from the rubble, nine months pregnant, and survived long enough to give birth before sadly passing away. Her daughter, Yumi, grows up in a coma and whilst Yuichi is in the hospital, he believes the magic of the Sleeping Beauty fairytale and makes daily trips to her room to say "I am a prince, please wake up" and kiss Yumi on the lips, yet all his efforts come to nothing.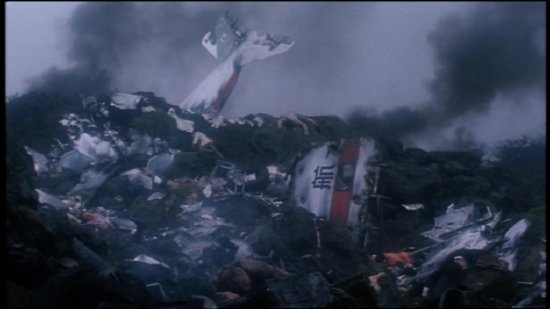 Ten years on and Yuichi is a popular 17 year old at high school, several girls have a crush on him but he hasn't been able to forget about Yumi. Whenever he has an opportunity, he dashes out of school early and makes the long trip to the hospital to repeat the ritual that began when he was only seven. Months go by and nothing happens but, one night when, in true fairytale circumstances, a thunderstorm is raging outside and he kisses her as the clock strikes midnight, Yumi awakens from her slumber and is suddenly the centre of a media and medical barrage.
No one knows why Yumi suddenly woke up or why she is able to learn so quickly, picking up language skills and the ability to walk and move like an adult in hours, rather than months and years. She also has the bizarre ability to be able to draw a picture of her father with almost photographic accuracy despite having never seen him -- he left whilst she was in a coma and has gone completely off the radar but still sends money to help with Yumi's care. When Yuichi sees Yumi at the centre of a press conference on television, he races to the hospital and drags her into the woods and they begin a whirlwind romance that comes to a shuddering halt when Yumi reveals who she has feelings for.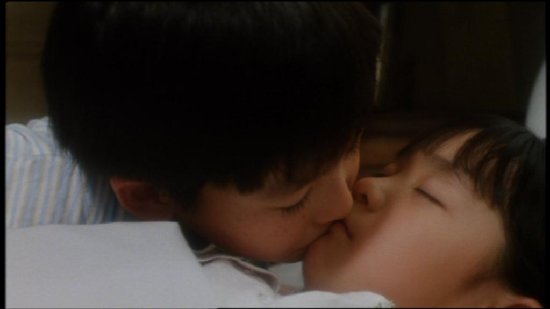 Sleeping Bride
is a real oddity of a film as there is a real sweetness to it which is almost counteracted by Nakata's direction and the score by his frequent collaborator, Kenji Kawai. This results in some scenes that look as if they had been plucked straight from a horror movie and others that are pure anime fun and excitement. This works because, at the heart of every fairytale, is a real darkness, and Nakata knows how to bring that out whilst staying faithful to the tone of its comic book roots.
Thanks to a very well written screenplay and wonderful performances by the two leads and the supporting cast, not to mention the direction and score,
Sleeping Bride
works extremely well and, if you didn't know, you would be pushed to name Hideo Nakata as the director. This is a very watchable film and, though I can't comment on how it compares to the manga, fans of the original source material and of this type of Japanese cinema should really enjoy the film.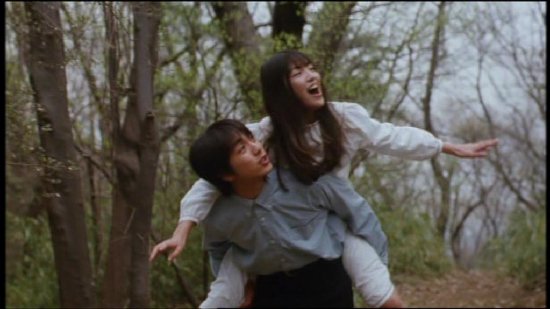 The Disc
Extra Features
In the brand new featurette 'Two Godfathers', Jonathan Clements gives an interesting background to the history of
Sleeping Bride
and its creator, the 'Godfather of manga', Osamu Tezuka. He talks for over a quarter of an hour about how the manga fits in to Tezuka's life, Japanese culture and the economic climate in the early 1970s. He briefly mentions Hideo Nakata, the other Godfather (of J-horror) and why the film is probably overlooked when considering Nakata's body of work. This is a really interesting featurette that will be of particular interest to anime fans and those who are big followers of Tezuka's work.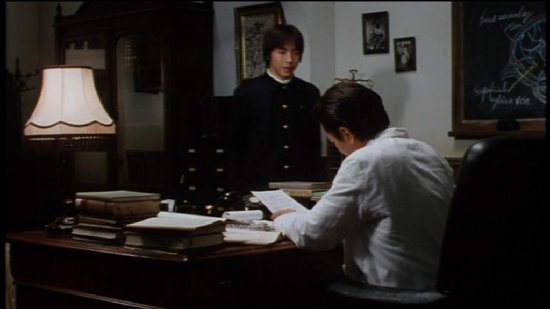 The Picture
This is clearly an NTSC to PAL transfer and the picture is pretty soft throughout. Colours aren't as bright as they should be and the picture occasionally looks slightly washed out but it isn't horrible and certainly doesn't detract from the film itself. The disc I was provided for review was a retail version and it suffered throughout with skipping -- just the picture, the soundtrack carried on normally. I don't know if this is a problem with my disc or the entire pressing.
The Sound
You have the option of Japanese 5.1 or 2.0 stereo and, to be honest, there isn't much to choose between them as the majority of the film is frontloaded and dialogue dominated. Where the stereo would lose out is during a thunderstorm or the odd scene where there are some ambient sounds or when the surround speakers are called into action, but these are few and far between. Both tracks are clear, with crisp dialogue and there are very good English subtitles if Japanese is not your forte.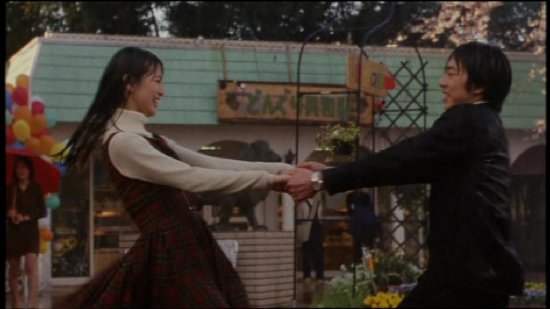 Final Thoughts
Sleeping Bride
is a very good film that made me wonder why I had neglected it for so long. It is one of those that I had put off and put off until I really didn't feel like watching it and it was only because it was being released in the UK that I decided to see what the Palisades Tartan release was like and see whether the film was any good whilst I was at it. Both film and disc are pretty good, though the picture quality does leave something to be desired and the skipping is a bit worrying -- I hope it was just a problem with the disc I was sent and not with the entire first pressing.
This is well worth a look, especially if you are into Japanese cinema and haven't caught this on DVD before; it's especially good to have a stand-alone release for those who aren't interested in the
Ring
movies.
Addendum:
Having had a look at my long maligned Tartan Video Asia Extreme disc, that doesn't suffer from any skipping and the picture is a little brighter. It also has a DTS 5.1 track in addition to the two Dolby Digital tracks but there are no extra features (not counting the Hideo Nakata trailer reel) on the disc.