In Tranzit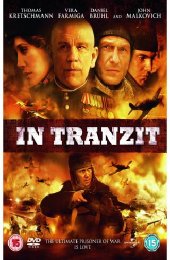 Certificate: 15
Running Time: 108min
Retail Price: 14.99
Release Date: 31st May
Content Type: Movie
Synopsis:
John Malkovich stars as a sadistic Soviet officer alongside multi-award nominated star Vera Farmiga in the tough prisoner of war camp drama In Tranzit, which makes its DVD debut courtesy of Universal Pictures.

This hard-hitting war drama features an outstanding performance from Malkovich alongside freshly Oscar!, BAFTA and Golden Globe nominated Farmiga, who starred in Up In The Air and Thomas Kretschmann (Valkyrie, The Pianist). It arrives on DVD on 31 May 2010.

Malkovich, eponymous star of Being John Malkovich, as well as Burn After Reading, Con Air and Of Mice And Men, rules the roost over a female run Soviet prison camp at the end of the Second World War.

But the dynamic shifts abruptly when group of German prisoners of war are inadvertently sent to the camp. And as the women officers attempt to weed out SS officers aiming to avoid execution, bonds form, relationships develop and the lines between captor and prisoner begin to blur… And in this grim world -- a cold miserable, desolate prison camp -- can solace and redemption can be found?

This powerful drama covers one of the least talked about events during the fallout from the Second World War and is an uncompromising look at the nature of war and conflict.
Special Features:
Making Of

Directed By:
Tom Roberts

Written By:
Natalia Portnova
Simon van der Borgh

Starring:
John Malkovich
Thomas Kretschmann
Vera Farmiga

Casting By:
Gail Stevens

Soundtrack By:
Dan Jones

Director of Photography:
Sergei Astakhov

Editor:
Paul Carlin

Distributor:
Universal