Boom!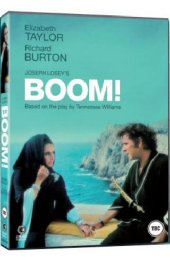 Certificate: TBC
Running Time: 104min
Retail Price: 19.99
Release Date: 30th Nov
Content Type: Movie
Synopsis:
Ms Sissy Gosforth is a nasty drug addicted middle-aged terminally ill alcoholic who lives on a secluded private Mediterranean island. She spends the summer of her dying days dictating her memoirs. She verbally attacks her servants with random acts of diva-like rage, fuelled by inappropriate insults. Her reclusive misanthropic existence ends when a handsome poet named Chris Flanders arrives on her island. Get ready for BOOOOOOOOM!
Special Features:
None

Directed By:
Joseph Losey

Written By:
Tennessee Williams

Starring:
Elizabeth Taylor
Richard Burton
Noel Coward
Joanna Shimkus

Soundtrack By:
John Barry

Director of Photography:
Douglas Slocombe

Editor:
Reginald Beck

Costume Designer:
Annalisa Nasalli-Rocca

Production Designer:
Richard Macdonald

Producer:
John Heyman
Norman Priggen

Distributor:
Second Sight