Dumbland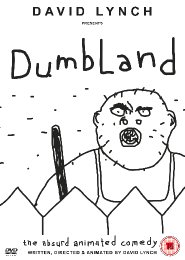 The Absurd Animated Comedy
Certificate: 15
Running Time: 35
Retail Price: £15.99
Release Date: 22/06/2009
Content Type: Movie
Synopsis:
David Lynch's much-discussed but relatively little-seen animated short series DUMBLAND finally gets a UK DVD release on 22nd June 2009 (courtesy of Scanbox Entertainment) and it's every bit as weird, funny, profane and provocative as you would expect from the man responsible for "Eraserhead", "Twin Peaks", "Blue Velvet" and "Mulholland Drive".
DUMBLAND consists of eight animated vignettes written, directed, voiced and animated by Lynch himself (he also composed and performed the show's music) originally produced as exclusive content for his official website. Described by the director as "a crude, stupid, violent and absurd series", the episodes revolve around the day-to-day life of Randy, a boorish, impatient and violently tempered man, his constantly shrieking wife (or is she?) and their bizarrely nondescript child with a hilarious penchant for repetition, Sparky.

In "The Neighbor", Randy admires his neighbour's shed while becoming increasingly verbally abusive to the man who eventually confesses to being a "one-armed duck-f***er". "The Treadmill" sees our hero attempting - and failing disastrously - to destroy his wife's noisy exercising machine, while in "The Doctor" he fares no better after electrocuting himself as he attempts to mend a broken lamp.

Subsequent episodes feature Randy reminiscing with his pal about killing things ("A Friend Visits"), attempting to remove a stick from a stranger's mouth ("Get The Stick"), dealing with another monotonous day around the house ("My Teeth Are Bleeding"), looking after a sick relative ("Uncle Bob") and going head-to-head with a swarm of ants who submit him to gleeful musical taunts of "asshole, s***head, dumb-turd".

Drawn in the crude style of Lynch's weekly comic strip "The Angriest Dog In The World", DUMBLAND may be absurdist and deliberately low-brow in nature but it is also very funny and will delight fans of the director's more "out there" works.
Special Features:


Related Websites:
http://www.davidlynch.com

Video Tracks:
Fullframe 1.33:1

Audio Tracks:
Dolby Digital Mono English

Directed By:
David Lynch

Written By:
David Lynch

Starring:
David Lynch

Soundtrack By:
David Lynch

Producer:
David Lynch

Distributor:
Scanbox Entertainment