Red Heat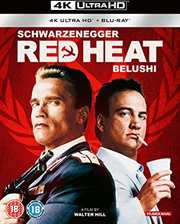 Certificate: 18
Running Time: 105 Mins
Retail Price: £19.99
Release Date: 21/10/2019
Content Type: Movie
Synopsis:
Ivan Danko (Arnold Schwarzenegger) is a Russian cop sent to Chicago to extradite a Russian drug-dealer named Viktor Rostavili (Ed O'Ross), wanted for murder back in the USSR.

When Danko and his prisoner are ambushed by Viktor's gangland friends the Russian escapes, and a veteran police officer is killed. His partner, Ridzik (James Belushi), who, like Danko now has a personal vendetta against Rostavili, joins forces with the Soviet cop to hunt down the escapee and his gunmen.

Also starring Peter Boyle, Laurence Fishburne and Gina Gershon.
Special Features:
Arnold Schwarzenegger - The Man Who Raised Hollywood

Political Context of Red Heat

East Meets West - Featurette about Carolco and Read Heat

A Stuntman For All Seasons - Tribute to Benny Doblins

I'm Not A Russian But I Play One On TV - Interview with Ed O'Ross

Making of

Original Trailer

TV Spots

Related Websites:
http://www.studiocanal.co.uk/Film/Details/9a55cecd-0b0b-483b-8bc9-9e81004e8197

Directed By:
Walter Hill

Starring:
Arnold Schwarzenegger
James Belushi
Laurence Fishburne
Ed O'Ross
Peter Boyle
Gina Gershon