Gunslinger Girl Season 1-2 + OVA Anime Classics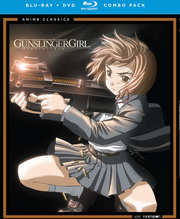 The girl has a mechanical body. However she is still an adolescent child.
Certificate:
Running Time: 667 mins
Retail Price: $49.98
Release Date: 2016
Content Type: TV Series
Synopsis:
Gunslinger Girl returns in this anime classics edition which collects seasons 1-2 and the OVA!

Officially, the Social Welfare Agency is a government sponsored corporation that's in the business of saving lives. At least, that's the ruse. In reality, it's an agency on the fringe of technology. They give terminal patients another shot at life using cybernetic implants. This conditioning process then shapes the patient into an efficient machine for handling all of the government's dirty work.

Having survived the brutal slaughter of her family, Henrietta awakens to her new life at the Agency with a re-built body and no memory of the past. She has been teamed with her handler Jose, who is responsible for her training and conditioning, turning her into the perfect killing machine.

Henrietta strives to find her place within the Agency, doing her best to win Jose's affection. But can Jose control her? Can he balance the needs and desires between the assassin and the developing adolescent? Who are these girls? They've been given a second chance at life... But at what cost? Find out in Gunslinger Girl!
Special Features:
Production Commentary
Voice Director Commentary
Dossiers
Textless Opening And Closing Songs
Japanese Cast Interviews

Video Tracks:
1.78:1 widescreen 1080p

Audio Tracks:
Dolby TrueHD 5.1 Surround English
Dolby TrueHD 5.1 Surround Japanese

Subtitle Tracks:
English

Directed By:
Rei Mano
Morio Asaka

Written By:
Tatsuhiko Urahata
Yu Aida
Junki Takegami

Starring:
Anri Shiono
Atsuko Enomoto
Kana Akutsu
Kana Hanazawa
Risa Mizuno
Daisuke Kishio
Eriko Hirata
Hiroki Yasumoto
Kazuki Yao
Kouzou Mito
Masaya Matsukaze
Takehito Koyasu
Alese Johnson
Caitlin Glass
Laura Bailey
Luci Christian
Monica Rial
Eric Vale
J. Michael Tatum
Jerry Jewell
Jim Foronda
John Burgmeier
John Swasey
Mike McFarland
Stephanie Young
Ami Koshimizu
Eri Sendai
Hitomi Terakado
Kanako Mitsuhashi
Yuuka Nanri
Hidenobu Kiuchi
Mamiko Noto
Masashi Ebara
Mitsuru Miyamoto
Norihiro Inoue

Music From:
Kô Ôtani
Toshihiko Sahashi

Director of Photography:
Takahiro Miyada

Editor:
Hideaki Murai
Satoshi Terauchi

Producer:
Kazuya Watanabe
Mori Ooi
Satoshi Yoshimoto
Takatoshi Hamano

Executive Producer:
Haruki Nakayama

Distributor:
Funimation