Umberto D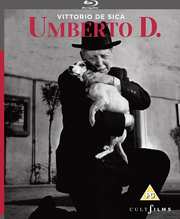 Certificate: PG
Running Time: 89 mins
Retail Price:
Release Date: 24/04/2017
Content Type: Movie
Synopsis:
Hailed by Martin Scorsese as "De Sica's greatest achievement", UMBERTO D surpasses even 'Bicycle Thieves' in many critics' opinions - rating as one of the greatest films of all time.

A heartfelt portrait of an impoverished retired civil servant who lives in a rented room in post-war Rome with only his beloved dog and a teenage housemaid as companions. Faced with eviction when he can't keep up with his rent, the old man struggles to make ends meet and maintain his dignity, but his growing despair leads him to contemplate suicide.

Written by De Sica's long-standing collaborator Cesare Zavattini, UMBERTO D's depiction of poverty, old age and­ loneliness – far from being a recipe for bleakness -­ is bursting with life.

Despite international acclaim with ­Cannes and Oscar nominations, it was castigated by the Italian government for airing the country's 'dirty laundry' in public. Today, though, UMBERTO D is universally considered not only as the apex of Italian Neorealism but as one of cinema's masterpieces with a profound influence on generations of filmmakers.

Presented in its new restored version, UMBERTO D's life-affirming tale is as pertinent today as when it was made.
Special Features:
Vittorio D: A tribute to multi-awarded maestro filmmaker De Sica, a milestone of Cinema history.

With participations from the likes of Clint Eastwood, Ken Loach, Mike Leigh, etc…

Video Tracks:
1.37:1 (OAR) colour

Audio Tracks:
Italian LPCM Mono

Subtitle Tracks:
English

Directed By:
Vittorio De Sica

Starring:
Carlo Battisti
Maria Pia Casilio
Lina Gennari
Alberto Albani Barbieri

Soundtrack By:
Alessandro Cicognini

Director of Photography:
G.R. Aldo

Editor:
Eraldo Da Roma

Production Designer:
Virgilio Marchi

Producer:
Giuseppe Amato

Distributor:
Cult Films