First ever Blu-ray release of Pier Paolo Pasolini's The Gospel According to Matthew joins the DVD in March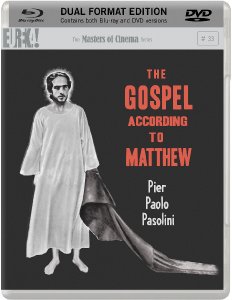 THE GOSPEL ACCORDING TO MATTHEW [IL VANGELO SECONDO MATTEO] [Masters of Cinema] is to be released in the UK in a new Dual Format (Blu-ray + DVD) edition on 26 March 2012



SYNOPSIS:



Legendary director (and avowed atheist) Pier Paolo Pasolini's

The Gospel According to Matthew

[i]Il vangelo secondo Matteo
] is one of the great retellings of the story of Christ - a cinematic rendering (filmed by invitation from the Pope, no less) at once both passionate and poetic.
With stunning black-and-white photography, an eclectic soundtrack (Odetta, Bach, a Congolese mass, etc), and using a cast of non-professionals who voice dialogue drawn directly from scripture,
The Gospel According to Matthew
depicts the key events in the life of Christ, from immaculate conception to death on the cross.
Vaunted by the Vatican as one of its select few recommended films, acclaimed by the Archbishop of Canterbury as a "great film", and revered by critics and audiences alike, Pasolini's Oscar-, Golden Lion-, and BAFTA-nominated film remains a magnificent, awe-inspiring experience.
This is the long-awaited, first ever Blu-ray edition anywhere in the world for this masterpiece of Italian cinema, directed by Pier Paolo Pasolini, the legendary director of

Salò, or the 120 Days of Sodom

;

The Decameron

;

Teorema

;

Mamma Roma

;

The Arabian Nights

;

Accattone

;

The Canterbury Tales

;

Oedipus Rex

; etc. The Masters of Cinema Series is proud to present

The Gospel According to Matthew

in a special Dual Format edition available in the UK from 26 March 2012.
SPECIAL DUAL FORMAT EDITION FEATURES
• New high-definition transfer in the film's original aspect ratio
• Original Italian theatrical trailer
• Newly translated optional English subtitles
• More extras to be announced nearer to release date
• Sumptuous booklet featuring rare archival imagery, the words of Pasolini, and more!
DETAILS:
Label:
Eureka Entertainment Ltd
Cat. No:
EKA70046 (RETAIL ONLY)
Barcode:
5060000700466
RRP:
£23.48
Release Date:
26 March 2012
Certificate:
U
Run Time:
137 min. approx.
Format:
1.85:1 OAR/ B&W
Genre:
World Cinema
Director:
Pier Paolo PASOLINI
Year:
1964
Country:
Italy
Language:
Italian
Subtitles:
English (Optional)