Early Murnau - Five Films 1921-1925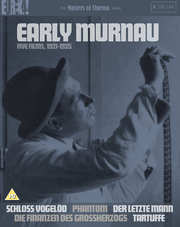 Schloß Vogelöd, Phantom, Die Finanzen des Großherzogs (The Grand Duke's Finances), Der Letzte Mann (The Last Laugh) and Tartuffe
Certificate: PG
Running Time: 433 Mins
Retail Price: £39.99
Release Date: 17/10/2016
Content Type: Movie
Synopsis:
Eureka Entertainment to release EARLY MURNAU: FIVE FILMS, 1921-1925, five masterpieces from one of the finest directors of the silent era, for the first time in the world on Blu-ray, together in one deluxe boxed set on 22 August 2016.

One of the most influential and revered figures in all of cinema, Friedrich Wilheim Murnau came to prominence in the first half of the 1920s with a diverse string of productions ranging from buoyant satire to swirling psychological drama. Five key works are presented here: Schloß Vogelöd, Phantom, Die Finanzen des Großherzogs (The Grand Duke's Finances), Der Letzte Mann (The Last Laugh) and Tartuffe.

In the sinister mystery Schloß Vogelöd, terrible secrets from the past threaten a group of aristocrats' gathering at a country manor. In the delirious Phantom, an aspiring poet's chance encounter with a beautiful woman leads into obsession and deception. The delightful Die Finanzen des Großherzogs sees a rakish-but-impoverished duke setting out to rebuild his fortune via blissfully comic high adventure on the Mediterranean coast. In Der Letzte Mann, one of the undisputed masterpieces of the silent era, Emil Jannings gives an overwhelming performance as a hotel porter with dreams of a higher station in life, and was a stylistic breakthrough for both Murnau and cinema in general. Finally, the slyly satiric Tartuffe features Jannings as Molière's iconic creation in a morality tale film-within-a-film as only Murnau could conceive.

This collection features new high-definition transfers of all five films from the finest archival elements, all on Blu-ray for the first time in a special edition three-disc set.
Special Features:
• The Language of the Shadows: Friedrich Wilhelm Murnau and His Films, a 31-minute video piece by Luciano Berriatúa on the early works of Murnau
• Audio commentary by film scholar David Kalat on The Grand Duke's Finances
• The Making of The Last Laugh, a 41-minute documentary by Murnau expert Luciano Berriatúa
• Tartuffe: The Lost Film, a 37-minute documentary by Berriatúa | A 100-page book featuring writing by Charles Jameux, Lotte H. Eisner, Janet Bergstrom, Tony Rayns, and archival imagery

Video Tracks:
1.33:1 OAR Black and White & Tinted

Audio Tracks:
Uncompressed PCM audio on all five scores

Subtitle Tracks:
Original German-language intertitles with newly translated optional English-language subtitles

Directed By:
Friedrich Wilhelm Murnau

Distributor:
Eureka Masters of Cinema